Construction backlog for large contractors hits new peak
But Northeast continues to see backlog decline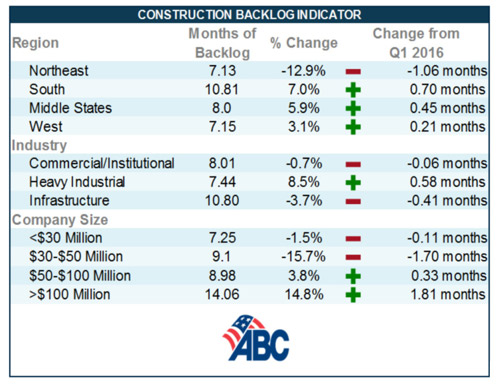 Construction backlog for large contractors reached a new peak of 14.06 months during the second quarter of 2016, according to the Associated Builders and Contractors' Construction Backlog Indicator.
The backlog for those with annual revenues above $100 million is largely attributed large industrial projects in Texas, Louisiana and other markets, hinting at stable to rising construction investment in those markets. Over the past two years, construction volumes have been falling in those markets, likely due to diminished oil and natural gas prices, reports ABC.
Nationally, average backlog fell to 8.5 months during the second quarter, down 1.6 percent from the prior quarter, and virtually unchanged from a year ago. According to ABC, that signals growth in nonresidential construction is slowing.
In the Northeast, backlog fell 12.9 percent from the first quarter of 2016 to 7.13 months, and dropped 19.4 percent from a year ago. It's the only region to experience a decrease in backlog.
It likely corresponds with backlog for firms with revenue less than $30 million, which declined 1.5 percent in the second quarter, compared to the first, and have fallen during five of the previous seven quarters. ABC attributes the backlog decline to skilled labor shortfalls preventing smaller firms from effectively bidding on larger projects, setting the stage for gradual declines in backlog. Similarly, backlog among firms in the $30-$100 million annual revenue category continue to decline.
"While a handful of commercial construction segments continue to be associated with expanding volumes, for the most part, the average contractor is no longer getting busier," said ABC Chief Economist Anirban Basu. "While backlog is hardly collapsing, the period of growing in nonresidential construction spending appears to be ending. In fact, nonresidential construction spending data indicate that growth has been slowing for a number of months, something that prior weak CBI readings suggested would occur."
"During the early stages of the nonresidential construction recovery, larger contractors were disproportionately gathering market share," said Basu. "This was occurring for a number of reasons. For instance, stimulus-related spending generally favored large contractors tied to infrastructure build-out. Larger contractors are also more likely to maintain solid banking and insurance relationships even during times of economic and financial stress, thereby allowing them to productively compete for more projects."
"As the nonresidential construction recovery broadened, smaller contractors began to experience a rise in backlog," said Basu. "However, recent data indicate that once again larger contractors are gaining market share. Small firm backlog has begun to decline."
"There are a number of potential explanatory factors regarding the lack of growth in backlog, the most obvious of which is the continued slow growth of the economy," said Basu. "Financial regulators have begun to express growing concern regarding possible bubbles forming in certain real estate segments in certain cities, which may have rendered the developer financing environment somewhat more challenging. A slowdown in business investment, including in energy-related sectors, has undoubtedly also played a role."