Connected device deemed successful in health management program
AgaMatrix collaborates with LifeWallet to enhance blood glucose monitoring product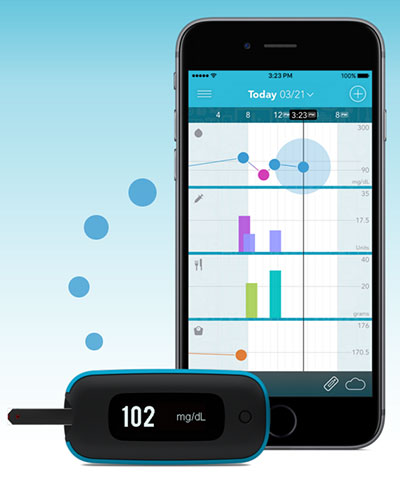 Salem-based AgaMatrix is collaborating with Miami company LifeWallet to connect its blood glucose monitoring solutions with LifeWallet's apps for health risk assessment and follow up care.
The AgaMatrix/LifeWallet integration aims to enhance preventative care for people at risk of developing diabetes by facilitating early detection and providing remote monitoring and clinical support.
According to the Centers for Disease Control and Prevention, more than one out of three adults have prediabetes and nine out of 10 don't know they have it.
LifeWallet is currently piloting the product at West Kendall Baptist Hospital as part of a study to determine its impact on population health management, as part of the GE-backed HealthyCities Leadership Academy Open Innovation Challenge.
Participants in the hospital's Sugar Smart for Life Program undergo a health risk assessment to establish their prediabetes risk. Patients whose levels fell within a pre-diabetic range received wearables and connected devices to capture data such as blood glucose, through AgaMatrix's Bluetooth enabled Jazz Wireless 2 Blood Glucose Meter.
Through LifeWallet's Engage App, clinicians can monitor patients' daily habits and compliance to their tailored care plan as well as provide messages to help them stay on track, through LifeWallet's Engage App.
"By incorporating our glucose monitor into LifeWallet's app ecosystem, it reduces the inefficiencies of traditional manual entry, providing a simplified testing experience for users that is intelligently designed to collect data with minimal disruption," said John Alberico, president and CEO of AgaMatrix.
The data from the AgaMatrix Jazz Wireless 2 Meter integrates with LifeWallet apps through HealthKit, with over two thousand glucose data points collected in the first two months of the program.
"We were thrilled at the adoption of AgaMatrix's Jazz Wireless 2 among participants in the GE Sugar Smart for Life Program, as more than 99.8 percent of the glucose readings were captured through the Jazz Wireless 2 device versus manually," shared Norb Menendez, CEO, LifeWallet.
The Sugar Smart for Life Program will continue through October 2017.