Concord's Vegas Block goes for $975k
Six bidders showed interest in downtown apartment building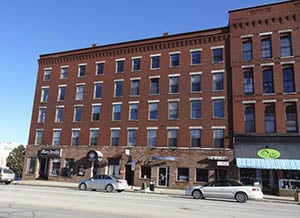 The historic Vegas Block in downtown Concord was sold at auction for $975,000 on June 23 to Remi Hinxhia, owner of Associated Enterprises Inc., which owns several downtown Concord buildings.
Six bidders showed interest in the building, which includes apartments and storefronts; in the end, four bidders came to the auction with checks for $100,000 to qualify.
Under Associated Enterprises, Hinxhia owns four other downtown Concord properties – the building at 132½-146 N. Main St., which is next to the Vegas Block; a building at 58-68 N. Main St.; a building at 9-15 Depot St.;
with tenants that include the restaurant Angelina's; and a parking lot on Low Avenue.
The previous owner, Emin Halilovic, bought the Vegas Block for $2.45 million in June 2008, the Concord Monitor reported, and it is now assessed at $1.73 million.
Hinxhia told Concord Patch he inspects all of his apartments at 146 N. Main St. every six months for bed bugs and roaches. Recently, three of the 27 apartments in that building were revealed to have bed bugs that came from the Vegas Block apartments.
"The property attaches to my property," Hinxhia told Concord Patch. "I need to protect my investment and that's what it is."