Concord, Portsmouth businesses call for coal plant clampdowns
Shut Merrimack and Schiller plants, they argue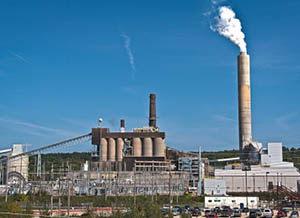 The owners of some 90 businesses – mostly in downtown Portsmouth and Concord – have signed on to a campaign calling on Public Service of New Hampshire to retire its two coal-burning power plants, according to Citizens for Clean and Fair Power, a group organized by the Boston-based Toxic Action Center.
On Wednesday, the group, in simultaneous press conferences in the two cities, called on the state's largest utility to shut down Schiller Station in Newington and Merrimack Station in Bow.
"The Seacoast deserves clean air, and Schiller stands in the way of that," said Peter Egelston, owner of The Portsmouth Brewery in downtown Portsmouth as well as Smuttynose Brewing Company.
"The bottom line is that Merrimack Station isn't the economic contributor or energy supplier it used to be, but still continues to pollute our air and water while burdening our local economy," said Ian Blackman, owner of Barn Restoration LLC in Chichester, at the press conference held at the Legislative Office Building in Concord.
But PSNH spokesman Martin Murray argued that the plants "are clean and reliable and economic sources of energy" and "critical fixtures," particularly during peak periods in the demand for power. Merrimack Station, he said, is one of the "cleanest coal power plants in the nation."
The group launched its campaign while the decision to keep Merrimack Station in Bow – despite a massive cost overrun in installing a $422 million mercury scrubber to meet environmental standards – is under regulatory scrutiny. The state Public Utilities Commission is questioning whether PSNH should be able to charge ratepayers for the scrubber. PSNH is challenging the PUC's investigation in state Supreme Court.
Both the PUC and the Legislature also are examining whether the utility should divest itself of its generating assets and concentrate on delivering power to homes and businesses.
The concern is that the higher cost of coal is pushing up the price of power and forcing businesses to seek cheaper energy from alternative suppliers. The recent announcement by an independent power provider to shut down a coal-burning plant in Massachusetts in 2017, saying it was not economical, underscored the issue.
Indeed, coal – once the major fuel, along with oil, to generate electricity – accounts for only 3 percent of electrical output in New England, according to a recent report by ISO-New England.
But PSNH has argued that the area's reliance primarily on natural gas could pose problems, if the price of that fuel spikes, as it did last winter.
Coal, said Murray, "adds diversity to an energy mix that is increasingly and dangerously dependent on natural gas."
Businesses have urged PSNH to dump the Merrimack plant before, but those were mainly larger users concerned that they might have to shoulder the cost of the scrubber. Indeed, Londonderry-based yogurt maker Stonyfield Farm challenged the scrubber in court.
Since then, almost all large businesses have left PSNH for alternative suppliers, and smaller businesses are starting to follow suit. Indeed, according to the latest figures, about a quarter of PSNH residential and small business customers now get their power elsewhere.
At the press conferences, some of the businesspeople opposed the coal plant for economic reasons, but others were worried that coal plants were not conducive to the tourist economy, or had environmental concerns, like global warming.
"It's all about pollution," said Bob Hassold, owner of Tugboat Alley, a nautical boutique store near the waterfront in Portsmouth. "We don't have enough fresh air. It's clouding up the area here."
The list of Concord businesses supporting the effort included such familiar names as Concord Camera, Endicott Furniture Company, Caffenio, the Red Blazer and Bambino's Pizza. Murray said he often patronizes these shops himself, as do many of the workers at the Bow plant. Several contacted by NHBR to explain the reason behind their support either declined comment or could not be reached by deadline.
"We are always happy to talk to them and supply them with accurate information about how important and critical these plants are to our infrastructure," Murray said.