Concord building earns LEED Silver certification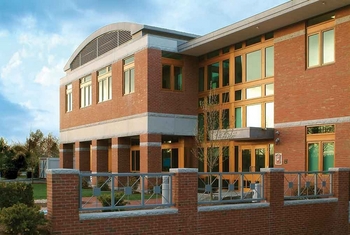 The recently completed addition to the New Hampshire Public Risk Management Exchange Office in Concord has earned a Leadership in Energy and Environmental Design Silver certification – a distinction awarded by the U.S. Green Building Council for buildings that meet the nationally recognized standards for high-performance and sustainable design.
The so-called LEED standards were developed to promote energy and resource efficiencies in all phases of building construction, and to also support efficient post-occupancy building operations and healthy environments. Silver certification is awarded to buildings that meet an even higher level of environmental performance than standard certification.
According to the project architect, Lavallee/Brensinger Architects, building materials and systems used throughout the construction phase of the project were selected and used based on their green and sustainable qualities.
Paul Genovese, CEO of the risk management firm, known as Primex3, said the 22,000-square foot addition was designed and built to meet the firm's long-term environmental goals and provide a healthy workplace for employees. In addition, many upgrades were made to the existing facility to make it more operationally efficient.
"We are proud to have achieved such a high-level of recognition for doing what is best for our employees and our environment," said Genovese. "We strive to be the kind of organization that provides long-term support for our employees and group members, on many levels. By following these building standards and gaining this recognition, we continue to support our members through a conscious decision to support our natural environment, today and in the future."
Some of the facility's environmental goals and efficiencies are:
• The use/re-use of resources, including construction debris
• Improved use of energy and water
• Protection and preservation of natural habitats
• Reduction in the use of products using toxic compounds
• Improved air-quality monitoring
Careful planning and resource usage had little impact on the original budget for the much-needed addition, said Barry Brensinger, CEO of Lavallee/Brensinger.
In fact, he said, he has noticed that many building owners are starting to better understand that careful resource consideration during the design phase can increase project costs minimally, while improving building performance within the environment and decreasing future operating costs.
"More and more, we find that building owners understand the necessity of investing in sustainable, high-performance design as a means of investing in the future of our environment," said Brensinger. "As the architect, we work with clients to implement many of the USGBC standards that benefit our communities, whether or not they intend on pursuing LEED certification."