Computer science at Rivier: quality, flexible, convenient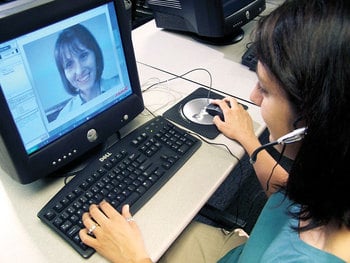 Did you know that the U.S. Bureau of Labor Statistics projects that half of the top 12 fastest-growing jobs over the next 10 years will be in computer science and information technology fields?
To meet the growing demand, Rivier College recently launched new online bachelor's degrees in computer science and information technology, as well as a master's degree in computer science. In addition to being offered entirely online, the programs will also be offered in a hybrid format, making use of both online and face-to-face classroom instruction.
The new online computer science programs, as well as an online certificate in homeland security/emergency and disaster management, add to the college's already diverse curriculum.
"Rivier's adult learners have a variety of options to choose from, including online, face-to-face, accelerated, and hybrid course and program formats," says Dr. Joseph Allard, Rivier's vice president for academic outreach. "Our goal is to provide flexible programming options to meet the demands of the busy lifestyles of working professionals, while still providing the level of quality that Rivier's programs are known for in the region."
Bringing the classroom to you
Rivier's new online computer science programs offer strong hands-on and laboratory components that bring the most advanced professional practices into the classroom.
"Our students have access to and practice with computer platforms, environments, and tools that are currently used in the work place. Course projects have the dual role of tying students' work experience into class learning and, in turn, enriching students' professional performance with new skills," says Mihaela Sabin, director of the computer science programs.
The online bachelor's degrees in computer science and information technology include a degree completion option allowing students to transfer up to 90 credits into the program. The new master's degree in computer science offers four concentrations: information technology; software development; Web and database development; and an option to design your own concentration.
In addition to using Blackboard, a course management system, the computer science programs utilize state-of-the-art Web conferencing software called LearnLinc, a tool tailored to support "live" online learning through integration of audio and video over the Internet, text messaging, an interactive white board, synchronized browsing and application sharing. LearnLinc sessions transform online classes into engaging, participatory and personalized learning environments.
To learn about Rivier's more than 60 associate, bachelor's and master's degree programs, call 603-897-8219 or visit www.rivier.edu.
The NHBR Business Profiles section contains content provided by New Hampshire Business Review advertisers.