Common Man, Smuttynose bring beer to retail
Common Man Ale now available in bottles at Market Basket, specialty stores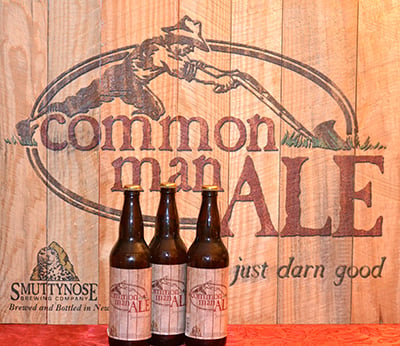 The Ashland-based Common Man family of restaurants and Portsmouth-based Smuttynose Brewing Co. have partnered on a venture to bring a made-in-New Hampshire beer to retail outlets in the state.
Common Man Ale, which has exclusively been available on tap in Common Man restaurants, has now been bottled by Smuttynose and is available in single 22-ounce "bomber"- style bottles in retail outlets throughout the state, including 25 Market Basket supermarkets and more than 39 specialty stores.
According to Common Man owner Alex Ray, bringing the beer to retail was an obvious next step for both brand recognition and in expanding his firm's longtime partnership with Smuttynose.
"Each bottle sold to a customer or new visitor to the state introduces our Common Man family to them," said Ray. "Our partners in this venture are consistent and solidly growing in the retail market in the northeast and beyond."
First brewed by Smuttynose in 2002, the deep gold-colored pale ale is made with two malts and two hop additions.
Common Man Ale is very balanced, which makes it well suited for any occasion, said Peter Egelston, founder and president of Smuttynose.
"We're very proud to bring Common Man Ale to the off-premise trade," said Egelston. "The beer appears on tap occasionally at Smuttynose, where it's a staff favorite. Our brewery visitors love it as well. We've been telling them for years 'No, it's not bottled.' Now, we're excited to tell them 'Yes!'"