Commission takes on state park funding 'nightmare'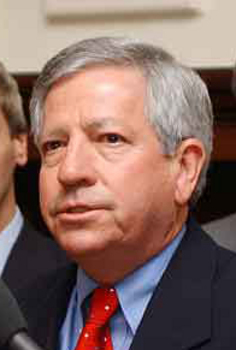 It may not be the first time state Sen. John Gallus of Berlin has called a government operation a "nightmare." But it is at least unusual when Gallus, a frugal North Country Republican who doesn't mind being called "cheap," complains that the state isn't spending enough money.
The "nightmare," said Gallus, is the state's park system. "It's a nightmare basically in the respect that they're really under-funded." A state that depends as much on tourism as New Hampshire does needs to think about investing more in some of the natural attractions that bring people here, he said.
"The park service in general has always been borrowing from Peter to pay Paul, covering crisis situations that occur," said Gallus, noting that some of the parks are bigger tourist attractions and bring in more money than others. But even some of the best revenue producers have been suffering from neglect, he said.
"Hampton Beach brings in a lot of money to the state of New Hampshire, but we're maintaining it on the cheap," Gallus said. "If these are real serious tourist attractions, then we need to step forward and do the improvements needed to bring them into the (21st) century."
Gallus is one of three state senators on a 17-member commission created last year by the Legislature to examine the park system and make recommendations for improvements. The commission recently concluded a series of public hearings and will be making its recommendations to the governor and Legislature at the end of October.
One of the recommendations included in a draft report the commission published in July is for the Legislature to approve over the next two biennia two $10 million general revenue bonds for repairs and improvements among the 72 properties in the state's network of parks campgrounds and historic sites.
That proposal is sure to get the attention of state's lawmakers when they convene early next year.
"Whew!" said Gallus, when asked what he thought the chances were of the Legislature approving the bond issues. "There are going to be some hard choices. We all know the revenue stream seems to be down, and I don't think in the short term it's going to get better."
"I think it's a 50-50," said House Majority Leader Mike O'Neil, R-Hampton, who was a member of the commission until his duties as majority leader caused him to step down. "I think the recommendation will go forward, but it probably couldn't have come at a worse time, given that we have education funding to deal with."
Still O'Neil believes that the capital investment is needed. And since the first $10 million bond would be for improvements at Hampton Beach, the majority leader, who is also a Hampton Beach resident, is all for it.
"I'm very supportive of all of that," said O'Neil. "The facilities on Hampton Beach were built in the early to mid-'60s, over 40 years ago. They really have worn out. Right now Hampton Beach is the No. 1 tourist attraction in the state park system, and with the Old Man (of the Mountain) gone down, it's definitely one of the biggest generators of revenue."
'Tougher' times
However partial he may be to Hampton Beach, O'Neil believes other parks also need an infusion of state capital.
"Our state park system is very tired and in need of a lot of rejuvenation," he said.
The chairman of the study commission agrees. "When you've got foreign visitors and people coming from all over the country, you need to be competitive with the other opportunities they have," said Sen. Bob Odell, R-Lempster. New Hampshire is the only state whose park system is entirely self-funded, and it has become increasingly difficult for the system to maintain its operations and the upkeep of facilities with self-generated revenues, Odell said.
"The people there are very good at it, but they've struggled with this for many years," he said. "Health-care costs are going up, fuel costs are going up and other expenses — it makes it tougher."
For the fiscal year that ended July 30, the state Division of Parks and Recreation had expenditures of $7 million and about $5.5 million in revenue. The deficit is carried over into the current year, along with the hope of better weather and more visitors to boost park income.
"We have had several back-to-back rainy fall seasons, and we have had two wet summers in a row," said Amy Bassett, spokesperson for the division. "Add in that the national trend for visitations to parks and historic sites are down and it doesn't help." she said.
Some of the shortfall has already affected operation of the state's historic sites. The John Wingate Weeks House in Lancaster was open only on weekends this year and the Daniel Webster Birthplace in Franklin was not open at all. Odell is concerned that such rescheduling may be saving dollars at the cost of discouraging travelers coming to New Hampshire's historic sites.
"It's creating uncertainty in the minds of people whether something will be open or not," he said.
Among the findings enumerated in the commission's draft report is the conclusion that self-funding of the state park system "has not provided adequate annual revenue to meet expenses. Self-funding cannot sustain the system in the future as the sole source of revenue for operations and maintenance."
Yet it is not likely, Odell said, that the commission in its final report will recommend a line-item expenditure for state parks be added to the state's biennial budg-et. It may, however, recommend an appropriation for maintenance of the state's 22 designated historic sites.
"That could be as much as $400,000 per year," said Odell. "There's been a general consensus within the commission that that should be paid for by general fund dollars."
Private support
The two $10 million bond issues over the next four years would enable the park system to take care of deferred maintenance as well as invest in modernization and future infrastructure needs, he said. The division also will be encouraged to seek other ways to increase income and decrease expenses.
"In the park commission meeting and hearings, it was clear that the department has never been given a mandate, never been given a charge to look at all opportunities to maximize income and minimize expenditures," Odell said. "Should they be picking up their own trash contract it out? Should there be an outsourcing of all food services as was done at Cannon Mountain a couple of years ago? If somebody on the private side can provide a service more readily and at lower cost, then we should be doing that."
Commission member Sen. Maggie Hassan, D-Exeter, agrees that the state needs to be looking for opportunities to "partner" with private enterprise to meet some of the needs of the park system. "I'm surprised we didn't talk more about finding other sources of revenue," Hassan said about the public hearings held by the commission and the draft report it issued.
She also wonders why there are no private concerns contributing to the maintenance of historic landmarks like the Robert Frost Farm in Derry. "I'm surprised we don't have a private entity to help us in some way. It's the perfect opportunity for partnership in a state where we pride ourselves on our charitable giving. It seems to me that's an opportunity we should be looking at."
At the commission's Sept. 19 hearing in Lancaster, Stephen J. Wright, managing director of Mountain View Grand Resort & Spa in Whitefield, said Mountain View is interested in contributing to the building of a ski lift on the long-abandoned Mt. Mittersill, which abuts Cannon Mountain. What the resort would like in return is to lease a portion of the land to build a warming hut for skiers. The ski lift could connect Cannon and Mittersill, Wright said.
"We would benefit from this for our guests who ski," Wright told the commission, while the state would benefit from the resort's marketing of the facility.
Wright later said he made the proposal in a letter he sent in June to George Bald, commissioner of the Department of Resources and Economic Development which oversees the state's parks, but had received no response. Bald said after the meeting that DRED was looking into the cost of building the ski lift and what contribution from Mountain View would be required.
DRED'S Division of Parks and Recreation has highlighted some of the more critical repair and maintenance needs at the state's park, campground and historic sites, including bathhouse and building repairs at Pawtuckaway State Park, an electrical distribution panel at Bear Brook Campground, a road washout at Mt. Sunapee State Park and extensive repairs that are needed at the Seashell at Hampton Beach.
About $5 million is needed for immediate repairs, said division director Allison McLean, while the remainder of the proposed $20 million bond issue would be directed at future maintenance and infrastructure improvements.
"All the sites have issues that need to be addressed," said McLean. "All are at the point where if we don't do something they could get to the point where they are falling apart."