Commerce Department official to keynote NH aerospace conference
June 1 forum to look at international trade opportunities for industry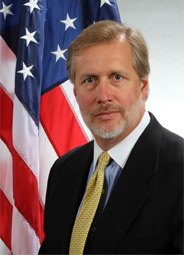 Kenneth E. Hyatt, deputy undersecretary for international trade at the U.S. Department of Commerce, will be the keynote speaker at the second annual NH Aerospace and Defense Conference on Wednesday, June 1, at the Radisson Hotel in Manchester.
Hosted by the NH Aerospace and Defense Export Consortium, in partnership with the NH Division of Economic Development and the NH Manufacturing Extension Partnership, the conference's theme is "Opportunities for Aerospace and Defense Products, Technologies and Services in the International Marketplace."
Hyatt, who oversees daily operations at the department's International Trade Administration, will focus on opportunities in international trade. According to Hyatt, "the aerospace industry has produced the highest trade surplus of any manufacturing industry and has had this distinction for over 25 years."
He said the industry supports almost 500,000 direct jobs "and thousands more indirect jobs."
The conference will also feature panel discussions on world markets and foreign military sales, as well as exhibitors. Among the other participants will be Camilo Gonzalez, senior regional commercial specialist with the U.S. Department of Commerce, and Stephen Bessette, director of international and foreign military sales at Hanscom Air Force Base.
For more information about the conference, contact Dawn Wivell at 603-836-4207 or dwivell@nhadec.com.