Colliers sells NH's iconic Citizens Bank building for $8.175m
Binnie's Carlisle Capital acquires downtown Manchester property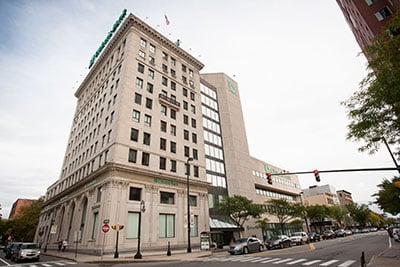 A team from Colliers International|New Hampshire put together the $8.175 million sale of the iconic 875 Elm St. building in downtown Manchester to an LLC that includes entrepreneur Bill Binnie of Rye and his company, Carlisle Capital.
The building, long home to Citizens Bank, and before that Amoskeag Bank, was sold by InvenTrust Properties to 875 Elm Street LLC.
It's expected that the property will be turned into a combination of retail/commercial, office and residential project. Citizens is a long-term tenant in the building.
The 140,000-aquare-foot building was New Hampshire's first high-rise tower when it was built in 1910 by Amoskeag Bank. In the 1970s, a low-rise office building was added. A 270- space parking garage and drive-thru banking branch is also included as part of the sale.
The offering brought strong investor interest locally and from investors in Boston and New York after it was put on the market in March, said Dan Scanlon, senior associate for Colliers.
"In an incredibly tight timeframe, we generated over 80 requests for offering memorandums, toured 24 parties through the building and collected 10 substantial offers," said Scanlon. "A significant takeaway from the project is the strong investor demand for Manchester."
According to Jim DeStefano, vice president of sales and marketing for Colliers in New Hampshire, "We are thrilled to have procured Carlisle Capital to purchase this historic gem. The Binnie family has an impressive track record of redeveloping and restoring historic properties, and we all look forward to seeing them transform 875 Elm back to its proper commanding position downtown."