Collaboration stressed in NH University Research & Industry Plan
It focuses on helping the state accelerate innovation-led development by strengthening ties between research and existing and emerging advanced industries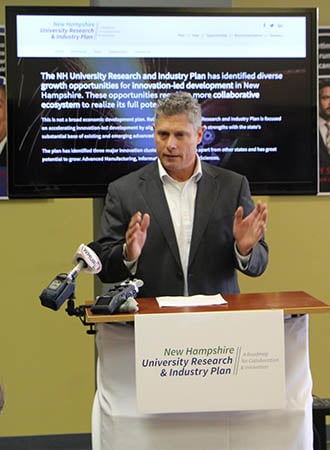 New Hampshire has significant untapped potential to improve its economy by developing better synergies between its research institutions and industry.
This is one of the primary findings in the newly released NH University Research & Industry Plan, which provides data-driven evidence of the state's innovation strengths and suggests strategies to capitalize on opportunities.
The plan is not being presented as a broad economic development strategy; it is focused on helping the state accelerate innovation-led development by aligning its research strengths with its substantial base of existing and emerging advanced industries.
According to the NH University Research & Industry Plan, New Hampshire lags behind the national average in growth in R&D for both industry and universities; has untapped opportunities for industry-university collaborations; shortfalls in the level of entrepreneurial activity needed to drive future growth; and challenges keeping up with the demand for attracting and retaining skilled workers.
However, the plan offers specific recommendations to address these challenges, with a focus on three broad industry clusters in which the state has the most potential for growth: information systems, advanced manufacturing, and geosciences. It also outlines broad strategic priorities.
A common thread across the plan's strategic actions is the need for public-private partnerships, with government, industry, colleges and universities and nonprofits playing a part in the strategy. But success, it warns, will be dependent upon the active participation of these sectors' top-level leadership in setting the tone and keeping stakeholders focused on implementing these actions.
"The tech sector is a vibrant and growing component of our economy, but we face some headwinds to maintain and accelerate the growth as outlined in this plan," said Matt Cookson, executive director of New Hampshire High Tech Council. "Having an understanding of how to address our workforce and research challenges through a thoughtful plan and integrated ecosystem will enable us to turn those headwinds into tailwinds."
To support promotion of the New Hampshire University Research and Industry Plan, NH EPSCoR has launched a website offering detailed information, including an executive summary, a downloadable plan, and other relevant resources.
The development of the plan was supported by Gov. Maggie Hassan, commissioned by NH EPSCoR (Experimental Program to Stimulate Competitive Research) and guided by a statewide committee made up of leaders from New Hampshire business and industry, legislative and executive branches of state government, philanthropy, the public sector and higher education.