Coldwell Banker: Bedford least affordable, Claremont most affordable housing markets
2016 report analyzes average listing price in 12 NH communities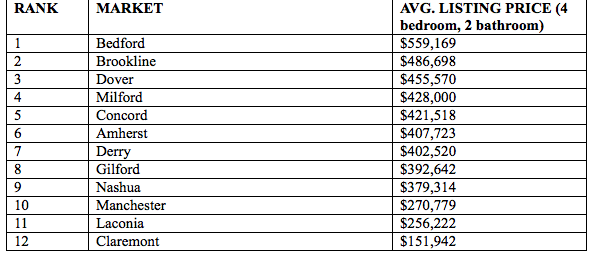 Bedford is the most expensive housing market in New Hampshire and Claremont is the most affordable, according to Coldwell Banker's 2016 Home Listing Report, which ranks the affordability of 12 real estate markets in the Granite State.
According to the report, the average listing price of a four-bedroom, two-bath home in Bedford is $559,169, while in Claremont the average listing price of $151,942.
The other communities named in the report were: Brookline ($486,698 average price); Dover ($455,572); Milford ($428,000); Concord ($421,518); Amherst ($407,723); Derry ($402,520); Gilford ($392,642); Nashua ($379,314); Manchester ($270,779); and Laconia ($256,222).
The annual report ranks the average listing price of four-bedroom, two-bathroom homes in more than 2,000 markets across the United States.