Cleaning up with organic soaps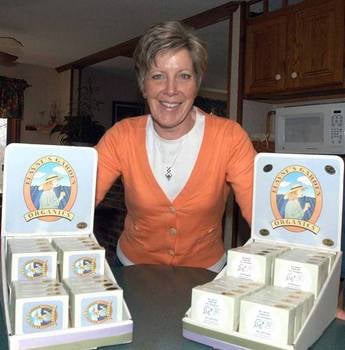 Visit Elayne Belkas's Danville home any day of the week and you will find the former junior accountant at her stove in a kitchen crisp and clean with the scent of citrus and spice or mint and apricot. A pot will be bubbling near a blotter-sized brick of the product it will become – Elayne's Garden "Certified Organic Soap."
The all-natural palm, coconut and olive oils and the combinations of flowers, spices and fruits used by Belkas have been reaping praise from her growing customer base since the company's inception three years ago. It is the soaps' label – which boast "made with organic oils" — that sets Belkas's products apart from those of other Granite State soapmakers.
"My soaps are the equivalent of fresh food for the skin," said Belkas who began making soaps after learning the trade from the women of Canterbury Shaker Village.
While other soapmakers are free to refer to their creations as "organic" or "all-natural" in an unregulated industry, Belkas is the state's only soapmaker who has earned the right to place a "made with organic oils" label on her product, a right granted by a U.S. Department of Agriculture-accredited certifying agency.
So how – and, perhaps, more importantly, why — did Belkas go about securing certification for a product with no mandated standards?
It was a label on a bottle of organic laundry detergent that got Belkas thinking. The label claimed 5,700 American homes could be heated or cooled by the oil saved if every household replaced one 50-ounce bottle of petroleum-based laundry detergent with a bottle of vegetable oil-based laundry detergent.
"I thought, 'That's huge.' It made me realize introducing organics into our lives doesn't have to be an all-or-nothing venture — even small steps can make a difference," said the 52-year-old Belkas. "I really took a curve in my business. I thought, 'If I'm going to do what's right and not mislead my customers, I'm going to do what I have to do to be legit.'"
What does it mean?
Hooked, Belkas began exploring the availability of organic ingredients and researching the process of certification. She knew both would be time-intensive and costly.
Fate intervened in the form of a $1,000 award from the Women's Rural Entrepreneurial Network. Supported by a grant from the Citigroup Foundation, the "Women and Company Microenterprise Boost Program" award provided the funds Belkas needed to bring her idea to fruition.
"It was clear that this award would mark a really important milestone in Elayne's business," said Katy Curyn, director of market access for the Bethlehem-based WREN.
With no set standards for skin care, Belkas took it upon herself to hold her soaps to the same standards set for the organic food industry. That decision led to months spent with agency inspectors, reviewing a paper trail of receipts, proof that Belkas's ingredients did indeed hail from organic farms.
The efforts paid off. Last Sept. 12, Belkas received approval to place the distinguishing label on her soaps.
But what does the label mean? For many, comfort. Consumers can be assured that Elayne's Garden soaps are made from natural ingredients grown free from chemical fertilizers or pesticides.
For Kellie Greer, a 43-year-old mother of two, it means a great product. "I love it, I'm not exposing us to chemicals, and its good for the environment."
While government standards dictate products bearing the "made with organic ingredients" label contain at least 70 percent organic ingredients, Belkas's soaps are 84 percent organic. The primary ingredients in the soaps — the palm, coconut and olive oils that give them their cleaning and lathering power — are derived from organically grown sources.
The remaining 16 percent of the product consists of the all-natural, though not necessarily organically raised, flowers, spices and essences that Belkas adds, as well as the lye needed to join the oils and water during production.
Although caustic in its simplest form, when used in soapmaking, lye, or sodium hydroxide, is actually removed naturally from the finished product, leaving no trace behind.
Plans to grow
While securing labeling rights brought with it a sense of satisfaction, Belkas is far from content.
Just like her customer base, her product line has grown steadily. Today, in addition to more than a dozen soaps — with names like "Sweet Chamomile," "Peppermint Patch" and "Rise and Shine" — Belkas also produces body lotions, shampoo bars, body creams and rubs. All are available through her Web site, elaynesgarden.com, either separately or in gift sets.
Belkas also is considering introducing Elayne's Garden products to the wholesale market.
Unlike the soaps, Belkas's other skin-care products do not yet boast the "certified organic" label, but she said she expects that to change by 2007, by which time she should be able to locate providers of the required organic ingredients.
In the meantime, however, business is outgrowing the home Belkas shares with husband Paul and son Michael.
"I can see this getting much bigger," said Belkas, who has already hired a marketing person. "I'm hoping to lease space big enough for at least 15 to 20 people."
While the label on Elayne Garden's soaps is smaller than the one on the laundry bottle that launched her organic quest, Belkas is hopeful the meaning behind it will make as great an impact on those that read it.
"My mission is not necessarily to provide a product to somebody already buying organic, but to those who have not yet made the move," Belkas said. "I hope they realize, like I did, that these little changes can make a big difference for themselves, their families and the environment. And when they do, I want them to know they just can't buy anything better."