Clean energy hinges on workforce
'Massive electrification' spurs demand for more technical jobs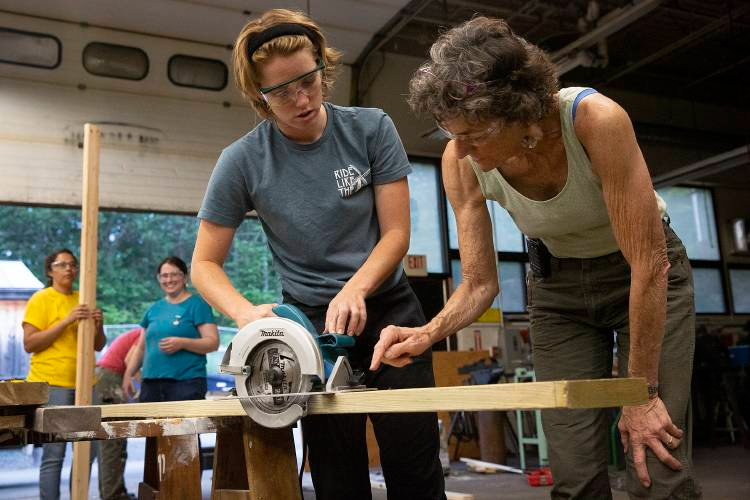 Jayne Trailer, left, and Julie Colt, both of Hartland, Vt., during a Vermont Works for Women's job training program class at Hartford Area Career and Technology Center in White River Junction, Vt. (Photo by Alex Driehaus, Valley News/Report for America)
Demand for solar panels and heat pumps has skyrocketed, but rapidly approaching deadlines for climate goals in the Twin States underscore a lack of workers who actually know how to install them.
"How do I put this bluntly?" said Rob Adams, chief operating officer at Norwich, Vermont-based Solaflect, which installs solar panel systems. "It's a total mess."
The trend that he sums up as "the massive electrification of everything" has dramatically widened the workforce gap that his company has been struggling with since its inception in 2007.
The application rate for technical jobs such as electricians dropped by nearly half between 2020 and 2022, according to data from online recruiting platform Handshake, and research from the National Electrical Contractors Association shows that more electricians retire every year than are replaced.
"At the core, people aren't entering the trades the way they used to," Adams said. "And while we have a slowing of people entering the trades, we have a significant increase in demand for the work."
Heat pumps are electric devices that often use heat from air outside or underground to warm and cool homes or water. Like solar panels, they require their own specific training to install.
Adoption of heat pump technology has been identified as crucial cog to limiting the effects of climate change; they're far more energy-efficient than standard fossil fuel heaters, which the majority of Vermonters still use.
Emissions-reduction goals
Under a 2020 state law, Vermont is required to reduce greenhouse gas emissions to 40 below 1990 levels by 2030. After transportation, the energy used to heat and cool buildings and to provide hot water accounts for the second-largest share of the state's emissions.
Similar emissions-reduction goals have been adopted by municipalities across New Hampshire but aren't legally mandated.
Last year, Vermont's energy-efficiency utility, Efficiency Vermont, invested more than $50 million in helping residents of the state pursue electric efficiency and thermal energy measures in their homes, a representative for the utility wrote in an email this month.
Funds from the federal Inflation Reduction Act have also supercharged spending on energy-efficiency measures across both states.
"The amount of spending that's going to go into clean energy and electrification in the coming decade is greater than the investment into the interstate highway system in the Eisenhower days," said Vaughan Woodruff, the director of a training center for ReVision Energy, a New England-wide company that installs renewable energy technology.
There's more money coming down the pipeline, but cash is only paper without boots on the ground.
Homegrown workforce
To keep pace with demand, a few years ago ReVision Energy, which has an office in Enfield, opted to grow its own workforce. It needed more electricians who could install its heat pumps and solar.
Building up to full licensing as an electrician requires steady training. It typically takes four years to move from apprentice to journeyman — a status that allows you to work individually on most projects. The time-intensive classes can be grueling, especially on top of the regular workday.
In 2018, ReVision received approval from New Hampshire's Electricians' Board to bring the training in-house.
"Up until that point, all our apprentices had used the more traditional track of attending the local career and tech centers in New Hampshire," Woodruff said.
That didn't work well with the increasingly intense schedule of ReVision's crews, which work 10-hour days. "The ability to get a strong learning experience going to a night class a couple times a week while working those days wasn't a great fit," Woodruff said. "Folks were stretched thin."
Bringing education online and available on days when there isn't work "helped create a schedule that was much more apprentice-centric," Woodruff said.
ReVision electrical apprentice Connor Mack, a New York native, took a circuitous route into the trades. But his decision to work in the renewable energy sector was intentional.
"It's an upcoming industry and going to take over," Mack, 27, said. "But it really also just feels good to do, knowing we're doing the right thing."
Mack graduated from a community college in New York with a degree in physics. Until he got a part-time job helping a family friend with electrical work, he hadn't considered a career in the trades.
"I think it has a lot to do with some kinds of public education and the job resources you get coming out of schools," Mack said. "It was never told to me, especially not by my high school guidance counselor, that this would be a good idea."
The accessibility of ReVision's apprenticeship program was appealing to him, he said.
"That's what's so underrated about the trades," Mack said. "You actually don't need any work experience, and that's normal across the board."
Mack also noted a cultural difference he's seen in the renewable sector.
"There's a lot of work in the trades where you don't really get young, socially accepting … people," he said. "It can be like a lot of angry 45-year-olds. But in the renewable field, it draws a certain kind. If you do want to go into the trades, it's really a safer space."
Woodruff, the ReVision Energy training manager, said to meet the rising demand, the trades will have to stretch out a hand to people that aren't typically involved. Even with training wheels greased, wait times for installation remain long, he said.
"If you take a look at the demographics of the construction trade, especially in our area, women represent less than 2 percent of electricians nationwide," Woodruff said. "We know there are structural barriers that go back, even to as early as childhood, in terms of messaging about where their place is in the trades."
Defying demographics
One night this summer at the Hartford Area Career and Technology Center, a group of 15 women had traveled from as far as Burlington to participate in a construction skills workshop.
Under the instruction of Tammy Ellis, that night some of the women learned a few of the beginning steps to adding skirting to a mobile home — a weatherization technique that can make a home more energy-efficient.
Efforts to reduce emissions look different across the board, from solar panels to heat pumps, to more brick-and-mortar weatherization efforts that reduce heating needs on the front end. Vermont's Climate Action Plan, which was commissioned when the emissions reduction goal was enshrined into law, calls for 90,000 homes to be weatherized in Vermont by 2030. Only about 30,000 have been weatherized in recent decades.
The workshop, meant to introduce women to a variety of trades, would close with the basics of heat pump installation. "Weatherization work and heat pump stuff is really where things are going," Ellis said. "This is an opportunity for some of these folks, if they're so inclined, to get ahead of it."
Ellis retired from Vermont's Agency of Transportation, where she was an engineer in the highway department. Now she's an instructor at Vermont Works for Women. Founded in 1989, the statewide nonprofit, which ran the training at Hartford Tech, aims to advance gender equity in all parts of the construction sector.
"A lot of women just think it's not for them," Ellis said. "But the trades are hurting right now, and more important than ever. There's no reason a woman can't be in the trades."
Her instruction is in hopes that women and other people who aren't typically recruited into the workforce are empowered to help fill the gap.
"The trades in general are starving for people," Ellis said. "That's what's in it for me — showing them possibilities that they didn't know existed."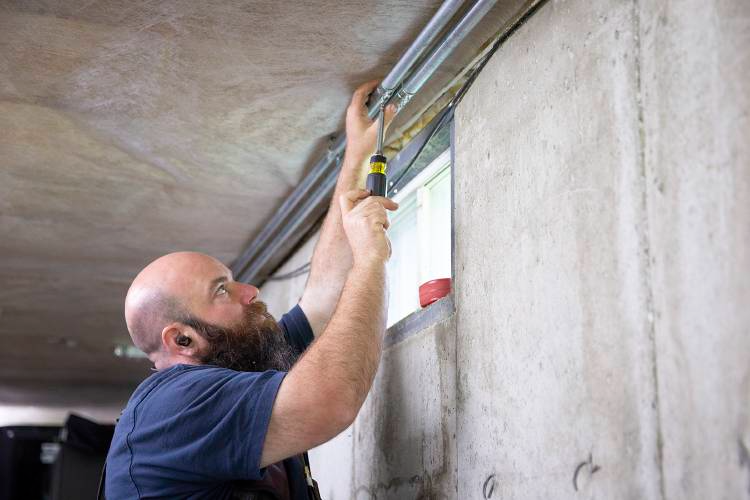 ReVision Energy master electrician Sean Maloney working on a grid-tied solar installation in Sunapee, N.H. (Photo by Alex Driehaus, Valley News/Report for America)
Costs in question
New legislation in Vermont is also boosting demand for heat pumps. This April, facing mounting pressure from Vermont's legally mandated emissions drawdown, the Vermont House passed the Affordable Heat Act.
The bill would direct natural gas utilities, such as a local fuel distributor, to "retire" clean heat credits by focusing on renewable heating options. The credits represent the amount of greenhouse gas emissions reductions caused by "a clean heat measure," such as installing heat pumps.
In May, the Senate overrode Vermont Gov. Phil Scott's veto of the bill. Now a committee will spend two years collecting data before the measures are implemented. After that, already high demand for heat pumps could be supercharged by legal pressure.
The bill has been criticized, especially by fuel dealers. They point, in part, to the lack of skilled workers that could implement its mandates.
Many fuel dealers in the state have created in-house training programs to prepare workers to install heat pumps. That includes natural gas utility Vermont Gas as well as Lebanon, N.H.-based Simple Energy (which has half of its customer base in Vermont).
Dealers say it's still not enough to keep up with demand, according to previous Valley News reporting.
It's been a brisk summer of work for Sam Simone, 19. He's an employee at Bradford, Vermont-based contractor ARC Mechanical, where he apprentices on a team that installs a heat pump every day.
Simone — who studied engineering at the HACTC his junior and senior years of high school — didn't miss a beat when he graduated from The Sharon Academy in June.
With his eye on the Affordable Heat Act, he headed straight back to the tech center for a two-week heat pump training program offered by Vermont Adult Learning Center. In the training, he took courses on refrigerant gasses and received technical instruction on installation.
It was enough to "get him in the mindset" of setting up the machinery, Simone said. The experience landed him his summer gig with ARC. "Once we get done with a heat pump, they're on us," he said. "They're ready to send us to the next job site right away."
Heat pumps are the future, Simone said.
"Getting people into them now is better than having people argue and try to stop them," he added. "We just have to figure out a way to make them affordable."
But even bringing prices down will require training the right workers, in large numbers, to install them.
And Simone cites a perennial issue in the state as another obstacle in workforce development. The cost of living boxes people out from taking time off of work to attend skill-building training.
Simone received a $500 stipend over two weeks of training to attend the two-week long Vermont Adult Learning installation workshop. But he emphasized that that rate — which chalks up to less than minimum wage — likely isn't compelling enough for so many people.
"It's almost impossible to find a cheap place to live here," Simone said. "So how are you even supposed to take weeks off of work to go learn a trade?"
This article is being shared by partners in The Granite State News Collaborative. For more information, visit collaborativenh.org.