Clark campaigns in city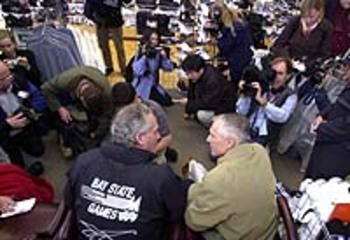 You can ask for support during your first encounter with a voter, but don't expect to get it.
Vasilios Pervanas, a 73-year-old shoe salesman and buyer, acted as Clark's professor after the new candidate spent nearly 10 minutes talking about the sluggish economy, the war in Iraq and the high cost of prescription drugs.
"Can I count on your support?" Clark asked, placing his left hand on the voter's shoulder.
"I'm not going to promise you. OK, OK, I'll consider it," Pervanas answered with a smile while backing away.
Clark later told reporters he will be seen a lot in New Hampshire between now and the Jan. 27 primary and did not discount his chances here.
"I don't know whether we are going to win or not. I think you have to be realistic about what it's going to take. Hey, look, I've spent my life working to win. I am not conceding anything," Clark said, one day after his advisers said a fourth-place showing in New Hampshire would amount to a victory.
Clark began a five-day tour after deciding to skip the Iowa caucus, marking his second trip to the state since entering the race last month. "This is going to be my point of main effort here," he said.
During a 75-minute walking tour of Nashua's downtown, Clark met only a few people who volunteered their backing, but he got pretty good reviews for his military resume and resolve to enter the presidential race so late in the process.
Peter Clarke of Nashua said Clark's views on national monetary policy impressed him. "I've got to hear a lot more of the issues from him and the others," Clarke said when asked if he is close to deciding on a candidate.
Linda Demperino – a salesperson at Beckonings, a downtown boutique that sells cards and gifts – said many people are struggling to keep their health coverage.
Clark said he would give a speech in two weeks on his health care plan, which would expand on federal programs that offer coverage, such as the Children's Health Insurance Program. "If he can deliver what he says, that would be wonderful. There is more than one issue," she said.
Alla Vatalaro, who owns Narcissus II Hair Salon on Main Street, also encouraged Clark to present plans to help more working people get health-care coverage. "He's got a great personality and a good message. He's not afraid to say what he thinks, and he's not a typical politician," she said.
James Steiner of the Greater Nashua Chamber of Commerce escorted Clark on the tour. "I think he's thoughtful and balanced. To me, there is a level of pragmatism that I think people will find to their liking. I also
believe he's got an appeal that should cross the political spectrum," Steiner said.
Clark is scheduled to present his economic plan today during an address at the University of New Hampshire campus in Manchester. It is expected to include support for retaining those parts of the Bush tax cut that benefit the middle class, such as the child care tax credit.
After Clark's announcement, he led nationally in popularity polls among the nine candidates, but he has slipped some amid reports about his failure to register as a Democrat before becoming a candidate, his work as a lobbyist, and political comments he has made while giving speeches for big fees.
Clark defended his praise of President Bush and his foreign policy team for the war against Afghanistan during a spring 2001 speech at a Republican fund-raiser in Arkansas.
"Let me say this. I'm a fair person. I don't care if a person is a Russian, a Chinese, a French or even a Republican," he said. "If they do something right and it should be commended, I will commend it."
The whole theme of the speech quoted was America doesn't have a foreign policy strategy and needs new leadership, Clark said.