Civilians to soldiers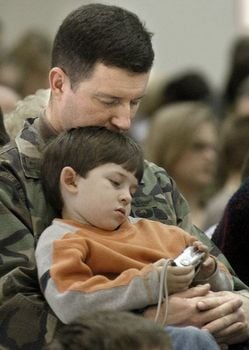 CONCORD – They arrived steadily from 2 p.m., some appearing apprehensive, others wearing expressions that reflected the apparent sadness in their hearts.
Soon, this parade of Granite Staters, representing family members and friends of soldiers in the New Hampshire Army National Guard's 1159th Medical Company, gathered in a giant helicopter hangar for Sunday's ceremony that advances the unit's Wednesday departure for Fort Dix, N.J., where they will train before shipping out to Iraq for a 12-month assignment.
With a UH-60 Black Hawk helicopter as the backdrop, Gov. Craig Benson joined state National Guard commanders at a podium in the unit's new flight facility.
"These departure ceremonies are never easy, but they do crystallize what New Hampshire, and our country, is all about," said Benson, who leaves office in less than a month.
"This country was founded by people who believed in freedom, and today, we are surrounded by people of that same ilk, those who are willing to stand up to protect our freedom."
One of those is Nashua resident Lina Cotto, a 2002 Nashua High School graduate and mother of a 3-year-old boy. She joined the Guard, she said, to advance her education with the child's future in mind.
"I just came back from training in August . . . this is mostly new to me," said Cotto, who sat with her husband, Nelson Cotto, her mom, Rosa Levesque, stepfather, Norm Levesque, and a cousin.
Nelson Cotto, who works at Batesville Casket Co., said he felt the day when his wife was sent overseas might come, but that does little to calm his concerns.
"Sure, I was prepared – but still, I'm kind of nervous . . ." he said, his voice tailing off.
The Levesques admitted to their initial displeasure with Lina's decision to become a soldier, but said they'd always back her.
"We weren't crazy about it, but we support her 100 percent," Norm Levesque said. anything can happen," Rosa Levesque said. "I just try not to think about that, because now I've got a son-in-law and grandson to take care of."
Leaving the relatively laid-back stateside life to enter the sobering arena of combat will be a big challenge for the soldiers, who range in age from 19 to 60, according to the unit commander, Maj. Gen. John Blair.
"You are moving out to go help not only our soldiers, but many people who have known only fear and torture," he told the group. "I've attended more deployment ceremonies recently than I've cared to . . . and I'm moved each time by the resolve and strength of you, our soldiers."
For Lyndeborough resident George Munson, having ample flying and actual combat experience under his belt doesn't necessarily mean this deployment is easier than his previous sendoffs.
"I've flown choppers all along and was in combat with the regular Army in the Persian Gulf, but yeah, I'm a little apprehensive . . . war isn't something you want to go back to," said Munson, all the while holding 3-year-old daughter Margaret. She's the youngest of four, he said.
In 2002, some 23 members of the 1,159th were deployed to Bosnia-Herzegovina as part of an international peacekeeping mission. In the first Persian Gulf War, the unit was activated to serve at three stateside military installations.
The air ambulance unit flies UH-60 Black Hawks and, once in Iraq, will transport supplies and combat personnel in need of medical attention, Guard officials said.
Nashua resident Griff Dalianis, himself a veteran who currently serves as civilian aide to the Secretary of the Army, attended Sunday's ceremony to support the soldiers personally.
"This is the ninth one I've been to," he said after the event. "I just came back from Fort Bragg and was told our New Hampshire troops are doing a stellar job over there.
"These people who are going today are the ones that will be saving lives – not only lives of our soldiers, but of Iraqis too," he added.
While cameras flashed and home video tape rolled, soldiers' black berets blended with baseball caps and baby bonnets in formal and candid keepsakes that will help get them and their families through the next year or so.
The Cottos and Levesques had no camera equipment with them, but Lina Cotto said she's already begun preparing her son for her lengthy absence.
"I've talked to him a lot . . . he knows that mommy has to go to work for a long time."