City landfill's recycling center a victim of own success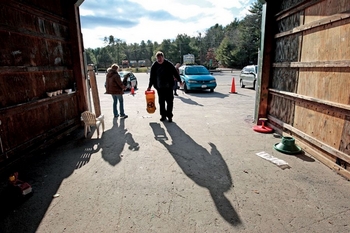 NASHUA – On a cold Tuesday afternoon, the Swap Shop was practically desolate.
Only some scattered magazines, a few plastic toys, flower pots, a clay wall hanging, a discarded television set and a piece of wooden furniture sat inside the open-ended shed at the Four Hills Landfill/Nashua Recycling Center.
No one was dropping off stuff, nor browsing the few available items. That emptiness seemed a portent of times to come.
The board of public works has voted to indefinitely close the popular Swap Shop. While the shop will remain open through Thanksgiving, its final day will be Saturday, Nov. 29.
The reason for the closure? The Swap Shop became so popular it began to draw large crowds, and as with many large crowds, you usually can find people behaving badly.
At times, things have gotten so out-of-hand at the Swap Shop that a police officer had to be assigned there to keep order, said Donald Dyer, a board of public works member.
"You go down there on Saturday, and it's a sideshow," Dyer said.
Plus, garbage and junk would get strewn around, creating a real mess, he said.
"It became very popular and a lot of people were hanging around it," said Capt. Fred Nichols of the Nashua Police Department.
Nichols said he had heard reports of items being taken from the landfill area – which includes a recycling center and garages – that weren't intended to be taken.
At least for the past three Saturdays, a police detail had been assigned to the Swap Shop to curb any potential theft "and to make sure people weren't getting out of control and fighting over who got what," Nichols said.
Finally, the board of public works had enough.
In a formal statement released Monday, the city Solid Waste Department said the decision to close the shop "was driven by ongoing public safety concerns, non-compliance with regulations and concerns shared by users."
The statement also noted that "the closure will allow the board of public works to re-evaluate the Swap Shop program and determine what changes may be made to allow for a better program which treats all users fairly, safely and does not create additional work or burdens on the Solid Waste Department."
Nashua has had a Swap Shop since the early to mid-1990s, said Sally Hyland, the city's recycling coordinator.
Until it closes, the shop's hours will be Monday through Friday from 8 a.m.-4 p.m., and on Saturday from 8 a.m.-1 p.m.
For now, a large flashing sign – the type used on highways to signal lane closures and such – stands at the entrance to the landfill alerting residents that the shop will be shut down.