City businessman's community spirit to be remembered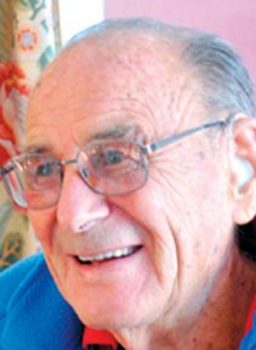 NASHUA – There's no question George Law left his mark, as a family man, as community leader and as a businessperson who turned a horse and carriage transportation outfit into a freight, storage and real estate mini-empire that now employs about 100 Granite Staters.
Law died Saturday, March 7, at the Community Hospice House in Merrimack. The Nashua native and lately a resident of the Huntington House had celebrated his 90th birthday less than a month prior.
Law & Ingham Trucking consisted of a horse and wagon when it was founded in 1882. Law began his career there when he was 14, and took over the family business when and helped grow it into Law Motor Freight. He also added two real estate companies, Law Realty and State Street Realty, and Law Warehouses, all of which employ about 100 people, according to Law's obituary.
Law's son, Jack Law, and grandsons, Brian and Scott Law, are the fourth and fifth generation of Laws that now run the companies.
Law grew up in Nashua and graduated from Nashua High School in 1936. That's where he met his wife of 55 years, Muriel Law, who died in 1995, according to Law's daughter, Beverly Clark, of Portsmouth, R.I.
After graduating from the former Nashua Business College, Law joined the Army and served as a troop train commander in Seattle, Wash., during World War II, according to his obituary.
From an early age, Law was allowed a lot of freedom and given many responsibilities, Jack Law said. As young as 12 years old, he would take his dog, gun and fishing pole and ride his bike to Merrimack for solo hunting and fishing trips.
When he was only a year or two older, his parents would send him a few houses down the street at bedtime to sleep as his grandmother's house so she wasn't alone.
"That was the kind of thing," Jack Law said. "They gave him great responsibility at a young age, and it showed for the rest of his life."
Jack Law said that independence stayed with his father and could make it difficult to work with him, as he did for many years. Jack Law started BSP Trans, a trucking company in Londonderry, and that was his "saving grace," because it granted him some of his own independence.
"We had an uneasy relationship sometimes when we worked together," he said. But "I did get a lot of community spirit from my father."
Law's obituary reads like a laundry list of community, religious and business organizations.
He grew up in the First Congregational Church and was later active in the Arlington Street United Methodist Church, where he was a trustee for 40 years. He was also a charter member and former president of the Nashua Exchange Club and chairman of the Nashua Centennial Celebration parade. He was also a trustee of the Edgewood Cemetery and the Tilton School and is a past president of the Nashua Chamber of Commerce.
He was named the chamber's Citizen of the Year in 1972 and the Exchange Club's annual youth award is called the George B. Law Youth of the Year Award, according to his obituary.
That's all in addition to his work, which he never really retired from. Even recently, Law made it to the offices nearly every day to keep an eye on how things were being handled.
But what Clark remembered most was the fun Law liked to have.
Many summer weekends were spent at the family's cottage on Lake Winnipesaukee near Weirs Beach, where Law also hosted Exchange Club outings.
"There will be a big hole there," Clark said. "He was just fun. He made it fun for all the kids and all his grandkids and great-grandkids. Everything was done with a sense of humor."
Law was equally well respected by many in Nashua's business community. Masi Plumbing and Heating owner Bob Boisvert met Law in the early 1970s and did many heating and plumbing projects at Law buildings over the years.
"George was almost like a mentor," Boisvert said. "He was just a gentleman's gentleman. I just had the most respect for him in the world. It's how you wanted to be. It's how you wanted to conduct your business."