City apartments burn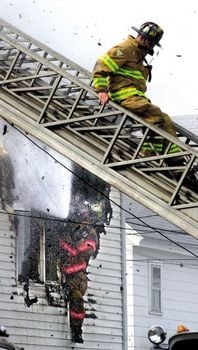 NASHUA – Two roommates went their separate ways, and three other families went to local motels after a fire broke out in a downtown apartment building Sunday afternoon.
No one was hurt in the fire at 9 Patten Court, and most of the damage was confined to the second floor apartment where it started, Fire Inspector Rick Wood said.
Wood was unable to determine exactly what caused the fire, but unattended candles were a likely suspect, he said.
The fire started in a bedroom, and one of the two men who shared the apartment, Corby Adkinson, said he had been using candles in the room during the night.
His roommate, Donald Dwyer, said he was shaving when Adkinson told him of the fire. The two men tried to find some way to put it out, but it was spreading quickly, so they got out and alerted other residents.
One of the men – Wood refused to say which – told Wood that he had been watching television and noticed the fire only when the smoke alarm sounded, Wood said.
"The smoke detector went off, and he looked and saw smoke coming from under the (bedroom) door," Wood said.
Adkinson and Dwyer scuffled briefly outside the building after the fire broke out, and the two men later agreed to part company.The local Red Cross chapter made arrangements to house residents of the entire building in local motels, emergency services director Bob Scheifele said.
The agency also helped Dwyer and Adkinson replace clothing they lost in the fire, he said.
Though the other apartments sustained only minor smoke and water damage, Wood said, the fire burned the power lines serving the building, and the electrical service had to be shut down.
The fire caused heavy damage within the apartment where it started, but Scheifele said he expected other residents would be able to return soon.
The fire was reported at 2:20 p.m., and firefighters got it under control by 2:46 p.m.
People who use candles need to take care in where they put them, Wood said.
Candles should be kept well away from bedding, drapes or other flammable objects, and never under a shelf or anything that will trap the rising heat.
Candles should never be left burning when no one's around to watch them, but they should also be kept on a stable, fireproof base so that they will do no harm even if they are left to burn all the way down, Wood said.