City and its symphony make beautiful music together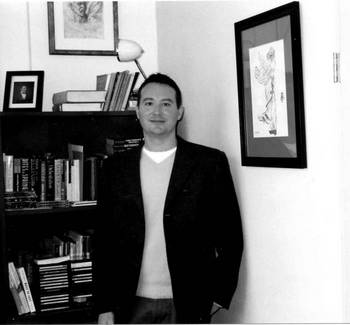 As executive director of a nonprofit organization, Eric Valliere knows hunger. There is hunger of the soul, a hunger for the arts and, well, just plain hunger.
"The last time we had a concert, I brought up a few friends from Boston," says Valliere, who directs the activities of the Nashua Symphony Association, which include both the Nashua Symphony Orchestra and Chorale Society. "I dropped them off at Main Street and gave them a list of restaurants they should try for dinner. They went to a few, and they were all packed. When the restaurants are packed at 5:30, it's because people are eating before going to a concert."
The concert was one of six in the season just concluded by the NSA, now in its 84th year. The orchestra has been fully professional since the early 1980s, but much of the organizational and promotional work is still done by volunteers. The staff consists of Valliere, Suzanna Capone, director of marketing and operations; Rebekah Labell, director of community relations; and music director Royston Nash. The organization continues through the efforts of "literally dozens and dozens of volunteers," says the grateful Valliere. The concerts are performed in what may be one of the best-kept secrets in New Hampshire.
With a seating capacity of 1,464, the Keefe Auditorium in Nashua's Elm Street Middle School is the largest concert hall in the state. Tickets are not hard to come by, either in number or in price. The top price is $45 and the lowest might seem, like the music, to be something from another era. Would you believe $10? And that doesn't necessarily mean the back row.
Many patrons don't want to sit that close to the orchestra, so bargain-hunters can get "front row seats for $10," Valliere proudly says.
The season's ultimate concert was in preparation as he spoke, an April 22 performance of works by Mozart, Beethoven and Dvorak. But not all the music featured by the symphony orchestra is composed by dead men.
"We also collaborate with local artists," says Valliere. "Next season we're doing a concert with the Granite Statesmen." That group, with its highly popular barbershop quartet style of music, is "not usually thought of as the kind of group that would be in a classical music concert, but that doesn't matter to us. We enjoy music and we want people to enjoy the music that we make."
The Liberty Big Band from Hanscom Air Force Base also will come up from Massachusetts to perform for listening and dancing pleasure in a "Free Swing Night" in Nashua, sponsored next January by NSA.
That doesn't mean that, in the memorable phrase set to music by Cole Porter, "Anything Goes."
"If we were to go too far," says Valliere, "if we wanted to change to the Nashua Pops Orchestra, then I think we would encounter resistance, and with good reason. I'm talking about making classical music a little bit more fun, a little bit more enjoyable," says Valliere.
In its outreach to students in the city's schools, the NSA seeks to "build events around them. It's about bringing kids to a concert and letting them participate, so it all comes to them in a big musical soup. Because, while it is about the music, in the end it is not only about the music."
Reaching out
It is also about people — their hopes, aspirations and experiences, he says.
"We've realized from years of dealing with students in high schools that they have a built-in resistance to classical music. They think it's not relevant to them."
So the NSA's approach is to begin with what is undeniably relevant to the students — themselves.
"We hired a poet to go into the high schools and work with them over a six-week period on poetry based on the quest for identity. And what they're doing is writing poems without even knowing they're exploring a theme explored a hundred years ago by a New Hampshire-born composer named Amy Beach," says Valliere. "The thing is, we've programmed her symphony into a concert where when the kids are done with their poems, they'll go back and see: 'You've explored this thing in poems that Amy Beach was trying to find out in her quest for identity at the turn of the (20th) century. We'll take your poems and ask several living conductors to set them to music for our orchestra.'
"So the kids, in a way they didn't realize, are finding themselves relating to the music of Amy Beach in ways that kind of turn the usual music exposure program on its head. Usually you bring the music programs in, they listen to the music and respond to it. What we're doing is inviting them to think of their own lives and we're going to make music out of that together."
Nash, the music director, personally visits the schools and enjoys giving the students an opportunity to wield the baton and to learn that there is more to conducting than merely keeping time.
"The biggest part of conducting is what people don't see," says Nash, a native of "old" Hampshire in England. "It's at the rehearsals. What you have to do at the performance is put in all those corrections and produce something that is art, to breathe life into the music."
Nash finds that his English accent can actually be a bridge to students who grew up long after the British invaded America musically.
"I like to tell them that in many of the Beatles songs they've heard, the Beatles are backed up by a large orchestra," he says.
Nash, who has served as conductor of the Nashua Symphony Orchestra for 20 seasons, has announced that he will be stepping down from the job in April 2007. No process is yet in place for selecting Nash's replacement, according to Capone, the orchestra's director of operations and marketing.
Community benefits
Being involved in the community helps an arts organization thrive in a medium-sized city like Nashua.
"In addition to putting on concerts, we put on afternoon receptions that include music," says Valliere. "We try to bring people together. For instance, we'll be having an event where we invite all the music teachers from the Nashua area and we'll have the kids there making music and we'll be talking about our education program that we bring to the elementary, middle and high schools."
The benefits to the community of having an organization like the Nashua Symphony Orchestra in town is a subject worth exploring, along with the musical themes, says Valliere.
"We're in the process of trying to rethink all of that," he says. "The symphony has been sort of trumpeting its aesthetic value for years and years. What we're trying to do here at this point in our life as a symphony is to find our relevance within the community. And the way we're trying to do that is to think of ourselves as a kind of central point for building community around the music that we make."
The organization can not only teach, but learn, from people in the community and from similar arts organizations throughout the nation.
"The ideas are out there for the taking," says Valliere. "Orchestras all over the country are doing things to shine a light on how classical music connects not only to popular music, but to popular movies and all sorts of things that are part of everyday life. The more ways we can find to connect to people, the better off we will be."