Citizens Count releases 2018 Voter Guide app
App presents nonpartisan information on candidates ahead of Sept. 11th primary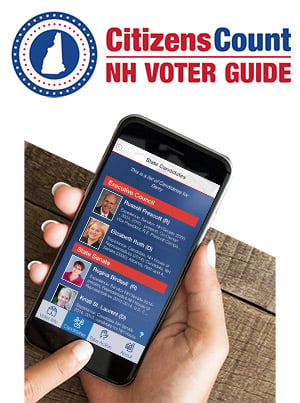 Not sure who to vote for in the primaries this September? Citizens Count, a nonpartisan nonprofit organization, has released a free smartphone app New Hampshire voters can take with them into the voting booth to help them decide.
The Citizens Count NH Voter Guide app, now available for free download from the Apple App Store and Google Play Store, is a complete pocket-sized resource for New Hampshire voters. Users simply enter their street address to find out their polling location and who is running in their district. The app covers all candidates for state and federal offices in New Hampshire.
Clicking on any of the candidates' names reveals their complete profile including experience and background, voting records for incumbents, positions on important New Hampshire issues and more, according to the nonprofit. The app's database features complete write-ups on all 950 candidates for office across the Granite State.
"Citizens Count is dedicated to promoting civic engagement in New Hampshire," Mike Dunbar, the nonprofit's marketing coordinator, told NH Business Review. "A problem that a lot of New Hampshire voters face is knowing a lot about federal issues and federal news but not knowing enough about state candidates and what's going on in the state. The hope, with this app, is that it will make it easier to make an informed vote."
Dunbar says the organization, previously named the Live Free and Die Alliance, which started 10 years ago and has produced voter guide apps in past election cycles, takes nonpartisanship seriously when collecting information on the candidates.
Citizens Count starts by sending candidates a survey that asks their position on specific issues. If candidates do not respond after consistent attempts to followup via phone, information is gathered from the candidates' websites as well as recent quotes published by local media outlets.
To ensure its nonpartisan stance, the organization conducts a thorough screening upon the hiring of its employees, which all weigh in on the content before it is published. Dunbar says the staff represents "all ends of the political spectrum."
"We really take it seriously. We just want to give voters as much information as possible and empower them to make an informed choice," said Dunbar.
In a press release, Citizens Count's director of research and analysis, Anna Brown, noted, "Voters often have difficulty learning about down-ballot candidates. What little information voters must rely on typically comes from special interest groups. The Citizens Count NH Voter Guide app offers citizens a free, nonpartisan alternative to help them make an informed choice in the ballot box."
Throughout the year, Citizens Count's website serves as resource, tracking state bills and collecting public feedback. Since members of the public are often busy when state hearings are scheduled, Citizens Count will use its social media pages to garner public response about legislation that the group then presents to the legislature at the hearing. The website also provides substantial information about candidates in the upcoming election.
"The website is a great resource for anybody trying to be more engaged and aware, but the app is this nice pocket size resource," says Dunbar.
Those interested in downloading the Citizens Count NH Voter Guide app can click here to get started.