Cities, state duke it out over MTBE suits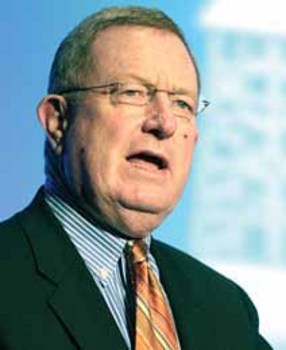 The state Supreme Court soon will decide if any town, water district or well owner can sue the manufacturers of a controversial gasoline additive once the state has already filed litigation to protect the health and rights of every citizen.
In recent oral arguments, Maureen Smith, senior assistant attorney general, said that rival lawsuits by Dover and Portsmouth have undermined the state's product liability case against 30 large makers and distributors of methyl tertiary butyl ether, or MTBE.
Attorney Tom Watson, serving the two cities, told the high court that state law gives them the right to protect their water and make polluters clean up their own messes, even if the state is already going after the same defendants.
He also said Smith has a weaker lawsuit because the state of New Hampshire shares some responsibility for the MTBE problem.
Rockingham and Strafford counties are the two hardest-hit by alleged well and groundwater pollution by MTBE, which is used to burn fuel more completely and protect air quality. It also dissolves in water, travels great distances through bedrock, resists biodegrading and causes cancer in animals.
A report last year by the state found the chemical was concentrated in urban areas, near underground storage tanks and in deep public wells. According to the report, 48 percent of the 120 public wells in Rockingham County had at least 0.2 parts per billion in 2002, the most recent data year. Only 12.7 percent of wells tested were equally compromised in 2000. The safe drinking water standard is 13 micrograms.
But the sparsely populated northern half of the state has traces of MTBE in the water as well. Belknap County has 10 percent of the state's affected water supplies, according to a report from the state Department of Environmental Services, which also found that 6.5 percent of Carroll County sites had the chemical, up from 3.9 percent two years earlier. In Coos County, 6.5 percent of the tested wells were tainted.
No geographical limits
Gary Lynn, a petroleum cleanup administrator with the state, said a smaller percentage of dealers north of Concord is selling gas with MTBE. State rules require the additive in gasoline sold in the four big southern counties. That's at least until January 2007, when suppliers must start using the cleaner ethanol.
Lynn's unit tested the gas in Belknap County at 10 service stations last year. Eight were using MTBE. Four of 11 stations used MTBE in Grafton County. Two of 11 had MTBE in Coos.
"The actual contamination in water is mostly less than the safe drinking standard," Lynn emphasized. "Laconia consistently has MTBE in the water because the two-cycle boat engines on Lake Winnipesaukee fail to burn gas completely. Paugus Bay (the drinking supply for Laconia) has low concentrations of MTBE, especially in summer."
Jeff Hayes, assistant director of the North Country Council in Bethlehem, works closely with Lynn on petroleum cleanup in Coos and Grafton counties.
"We're just starting to get our hands around the problem up here," he said. "We've identified a number of sites that need remediation. It's a major issue in the North Country."
The Department of Environmental Services voluntarily opted into a federal program in the early 1990s that still requires Strafford, Rockingham, Merrimack and Hillsborough counties to use reformulated gasoline. It has to contain either MTBE or ethanol for extra oxygen and cleaner burning.
During oral arguments, Smith told the high court the state would pursue its litigation just as vigorously as the two cities could, and her suit would represent everyone.
Under state and federal law, DES is required to clean up spills and recoup from the responsible parties later. The federal EPA gets involved in major spills.
Justice James Duggan asked Smith, "Did the state acquiesce in using MTBE?"
"No," she said. "We lacked the information the manufacturers had, and we couldn't control what oxygenate they used."
Chief Justice John Broderick asked what would happen if the state settled for only $100,000, or even $5 million, but the towns expected a lot more.
"What if they say they're not happy?" Broderick asked.
"We would never do that," Smith replied. "We can protect any private interests. With the towns also suing, the liability gets too complicated."
Watson warned the state has plans to put any winnings into a trust fund like the tobacco settlement money the state secured a few years ago against the cigarette companies.
"Little of that money has gotten back to the injured parties," he said.
Compensation dispute
Eighteen months ago, the entire congressional delegation also urged the EPA to approve the state's request to stop using MTBE and still meet the standards of Clean Air Act. The feds have made no decision.
Republican Congressman Jeb Bradley said the issue became moot when New Hampshire passed its own legislation to stop using MTBE at the start of 2007.
MTBE makers claim there is no evidence their product causes cancer in people at extremely low levels in drinking water. The research has only come from animal studies, both sides have agreed in testimony before legislative committees. But it tastes and smells offensive in tap water.
Red Cavaney, CEO of the American Petroleum Institute, told a congressional committee last February that the industry added MTBE to gasoline to meet EPA mandates 14 years ago.
"There was insufficient ethanol," he said. "The only choice for most producers was to use MTBE or break the law."
Merrimack County Superior Court Justice Edward Fitzgerald ruled June 28 that the state's product liability claim against 30 defendants must trump lawsuits by the two Seacoast cities against 61 defendants.
Dover and Portsmouth are going after the major statewide distributors, not just the national players.
Fitzgerald assumed the attorney general would seek "full compensation" for every community in the state because of tainted water. The cities said they might get more money on their own because they could demand treble damages, they had a better chance of winning, and they needed to preserve their rights if the state loses. The Supreme Court appeal ensued.
"While the compensation sought may not be the same as that which the cities would desire," Fitzgerald wrote, "a difference of that nature does not demonstrate an interest that is not properly represented by the state."
Former Attorney General Peter Heed launched the state's product liability case in September of 2003. His move came amid a battle in Congress over that year's comprehensive energy bill. Portsmouth filed a similar case two weeks later, and Dover followed suit that Nov. 19.
As first introduced, but later amended, the federal legislation would have protected MTBE makers from damage suits.
The New Hampshire delegation lobbied hard to hold the MTBE makers accountable for future massive cleanup costs. Bradley voted against the bill to keep that section out, and it died.
"We finally got that part stripped out, which was good for New Hampshire," Bradley said.
But lawmakers from Midwestern farm states won major subsidies for ethanol makers as part of a compromise Bradley also opposed.
"It's going to add 10 cents to the gallon for a very marginal environmental gain," Bradley said.