Children of Chernobyl visit N.H. for health care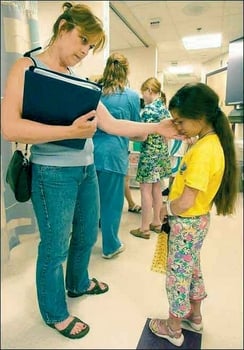 As the group of kids runs around the house, laughing and chasing one another, it doesn't appear that some of them have health problems so severe that their doctors don't know how to treat them.
Other than the fact that 8-year-old Nataliya and 9-year-old Tamara don't speak any English, they play with Jen Rogers' two kids as if they had known them for years.
"Except for the language, they look like they could be the kids next door," Rogers said as she watched Nataliya float back and forth in the family's backyard pool.
Nataliya and Tamara are part of a group of 16 children from the Ukraine, Belarus and Russia who have come to live with host families in the Nashua area for a month this summer through Chernobyl Children Project USA. These children live with their own families in communities that surround Pripyat, Ukraine, where the Chernobyl nuclear disaster occurred 20 years ago, and come to the United States to receive medical treatment that is not available to them back home.
The program was incorporated in 1997, and since then has placed more than 1,200 children with host families in the Boston area. This is the fifth year that the program has included Nashua area families.
"This is the first generation in the world to live in low radiation levels," said Patty Doyle, president of Chernobyl Children Project USA. "Nobody knows how it's going to affect them."
While all of these children were born after the Chernobyl nuclear power plant exploded in flames in April 1986, they have health problems their doctors are unable to diagnose or unable to treat because of a lack of equipment or expertise.
"These parents that send their kids over here want answers," said Doyle. "They want U.S. doctors to find out what's wrong with their children."
Donated health care
Dr. Oleg Gordeyev runs a health clinic in Klintsy, Russia, and has been traveling to the United States each summer with the children to learn different techniques from U.S. doctors that will help his clinic back home. Gordeyev said for a lot of the children, this is an opportunity to get diagnosed much faster than they would back home. Often times, the way diseases are treated back home is less effective than the techniques performed by U.S. doctors.
At home these kids live, eat and breathe in a contaminated site on a daily basis, and the opportunity to eat clean food and drink clean water drastically improves their health.
Among the most contaminated foods are fish, milk, berries and mushrooms. Even when people are aware that the food they grow themselves may be dangerous to eat, people have little money to buy food from other places, like the market, that is less contaminated.
"Telling these kids not to eat mushrooms is like going to a baseball game and not having a hot dog at the game," said Doyle.
For the month the children are here, they are examined by doctors at St. Joseph Hospital in Nashua and Tufts-New England Medical Center in Boston. All doctors have donated their time to see the children.
While the opportunity to be seen by American doctors may be the most important part of the trip, there is plenty of all-American fun planned for the kids as well, like a Fisher Cats baseball game or a day at Canobie Lake Park.
Even the chance to experiment with a different culture is an experience in itself, for both the children and the families.
Rogers said she finds that some things people take for granted here can be a real shock for the children at first. Last year, Rogers said she hosted a boy who had never seen stairs in a house before. Her other child had never seen the ocean before.
Maureen Szczygielski said while the language barrier can be difficult at times, the children find interesting ways to communicate.
Szczygielski said her 9-year-old son Ryan and her host child Ilia, who are only two weeks apart in age, are able to have conversations using only hand motions. Thumbs up is yes and thumbs down is no.
Szczygielski said when the children arrived at the World Trade Center in Boston they had very little with them in terms of personal belongings. A change of clothes and maybe an extra pair of sneakers, at most, but both Rogers and Szczygielski said they will try to send the children back home to their families with as much as they can stuff into their suitcases.
"We just hope that somebody would do this for our kids if the situation was reversed," said Szczygielski.
– ERIC PARRY/THE TELEGRAPH