Chief, twins fired up as angel campaign starts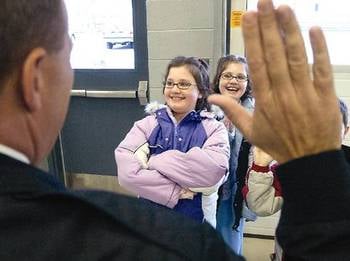 NASHUA – When a stranger introduced himself and asked her name, Cassie McTigue was suddenly the epitome of shyness, blushing before turning and hiding behind her mom, Kristen, during their visit to the Lake Street Community Fire Station on Wednesday.
"C'mon, Cassie," coaxed her twin sister, Kate, shaking her head and rolling her eyes and tugging on Cassie's arm.
"This is Cassie; I'm Kate," announced the more gregarious twin. Mom laughed, as did several Nashua firefighters and a few dressed-up people who also had come to visit.
The occasion was an informal but quite meaningful gathering to officially kick off the New Hampshire Credit Union League's sixth annual Adopt-An-Angel Campaign, a holiday-season fund-raiser to benefit Make-A-Wish Foundation of New Hampshire.
Make-A-Wish grants wishes for children battling life-threatening illness by arranging and funding their requests, which can include anything from getting a child a new puppy, going on a shopping spree, going to Africa to pet a cheetah, or going to New Mexico to learn to be a cowboy.
Both Cassie and Kate, 9-year-olds in third grade, are Make-A-Wish recipients. And as twins, they think alike – both asked Make-A-Wish for a trip to Disney World in Florida. The family – which also includes dad Stephen and 8-year-old brother Brannon – has already been once, for Cassie's wish, and is looking forward to going again soon for Kate's.
Simultaneous Adopt-An-Angel kickoff events were held Wednesday in Manchester, Keene, Rochester, Dover, Portsmouth and Berlin, according to Dick Lavoie, vice president of marketing at Triangle Credit Union and a member of its social responsibility committee.
Cardboard angel cutouts bearing names and brief biographies of Make-A-Wish children will be sold for $2 each at the 31 league member credit unions statewide through Christmas. Buyers can sign their angels if they wish, Lavoie said, and display them at their credit union.
"We chose to have this event here today because we've always had great support from the fire department," Lavoie said, as the twins and their brother played with Chief Roger Hatfield and ate cookies in the "tub room" (truck bays) at the city's newest fire station.
The kids gave firefighters angel cutouts they had decorated, then got a tour of the fire engine and aerial ladder truck.
The credit union league is Make-A-Wish's largest single sponsor, Lavoie said, citing a candy sales drive and a golf tournament as examples of other Make-A-Wish fund-raisers the league holds throughout the year. He said Triangle will also be selling the angels at downtown Nashua's upcoming Winter Holiday Stroll.
Julie Baron is Make-A-Wish's chief executive officer.
"The Adopt-An-Angel campaign is a way for us to build our resources to be able to grant wishes to children all year long," she wrote in a news release.
"We grant wishes to children with life-threatening medical conditions to enrich the human experience with hope, strength, and joy, and give them and their families a way to forget what they are going through – at least for awhile – and to build wonderful memories together."
Credit union league official Peter Kavalauskas of Northeast Credit Union in Portsmouth said the group hopes to raise at least $15,000 through Adopt-An-Angel this year, and is shooting for the $100,000 mark by July 2005.
Make-A-Wish officials estimate roughly 60 children's wishes will be granted in 2004.