Charolette Ave. Fairgrounds celebrate schools' history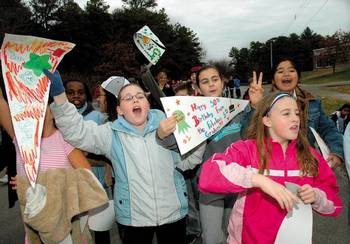 Post-World War II Nashua: Centered, community-oriented, thankful for peace, but still, with the rest of our nation, worried about those "Reds" – Communists, especially those with ties to Russia – and fearing war, this time with the dreaded A-bombs involved.
And our growth rate as a city was fast picking up speed.
By 1954, new homes were being erected in many growth-friendly areas of town, many of them on either side of the brand-new highway we called the "bypass" and the "superhighway" – the F.E. Everett Turnpike.
And the kids needed new places to go to school. City and school officials decided on two strategically located parcels, one among some new houses pretty near the new bypass on a little cut-through called Charlotte Avenue, and one on some open land over at the Nashua Driving Park off Lake Street.
These days, hundreds of kids in kindergarten through fifth grade and their teachers are harkening back to the hepcat, Kookie-talk days when duck-tailed, pink-and-leather-clad children left their new hula hoops, Whee-Los, coonskin caps and Robert the Robot toys at home to walk over and pass through the doors of two neighborhood schools for the very first time.
Charlotte Avenue Elementary and Fairgrounds Elementary schools were born on the first day of school in 1954 – Sept. 7, a Tuesday – sandwiched between two hurricanes and less than two weeks before another big local milestone, the Nashua area's switchover to dial telephones.
And the golden anniversaries haven't gone unnoticed.
On Thursday, for instance, students at Fairgrounds (named, of course, for the more generic name of the Nashua Driving Park) donned their handmade crowns and hats, carried balloons and signs and paraded behind their neighboring namesake middle school's marching band and a Nashua Fire Rescue truck to wish their school a happy 50th.
The celebration continued at lunchtime with PTO-sponsored cake and ice cream for all.
Principal Chuck Healey, who wasn't forced to disclose whether he was born before or after his school was, showed an aerial photograph a parent took recently when the students encircled the building and held hands – their big "birthday hug" for the graciously aging edifice.
Over at Charlotte Avenue, entranceway bulletin boards are chock full of 50-year-old events, fads, fashions, music – you name it.
There are even two photos, copied from old Telegraph newspapers via microfilm, showing kids sitting on the modern marvel of the day: folding cafeteria tables that allowed quick clearance after lunch for gym classes.
"We're doing a lot of '50s research projects with the students and working that era into our curriculum through this year," said Susan Nelson, Charlotte Avenue principal.
"It's fascinating to us, too, to see how interested the children are when we tell them how Nashua has changed, how culture in general has changed since that time. They're amazed at some of the sayings and customs, and the music from back then."
Nelson said many students' familiarity with the play and movie "Grease" has given them a heads-up as to what this '50s stuff is all about.
"It has a lot of catchy music in it, which they like . . . they related through that," she said.
So far, there's been a splish-splash (remember the old song?) event, rewarding kids with seeing their teachers in housemaid garb and buckets for achieving a schoolwide reading goal, and a Hula Hoop event outside. The PTO is looking at another theme event in the spring, "when we can get back outside," Nelson said.
One bulletin board posting reveals a much smaller school in 1954: There was a grand total of seven teachers and one custodian. One teacher, M. Lillian Sullivan, doubled as the principal.
The others were Florence Satula, Mary Jane Hickey, Faith Sargent, Kathryn Mulvanity, Doris Lavalley and Viola Doray. Arthur Levesque was the custodian. Including the specialists, Nelson estimates there are 40 faculty members today.
From the get-go, the schools were treated as "twins"; ground was broken for both in August 1953, and construction progress at each site was intended to mirror the other.
That worked well, for a while, but then the inevitable: first a water problem at Fairgrounds caused a delay there, then both had to wait for a late delivery of steel bar joists.
Soon, water was a problem at Charlotte Avenue, too; a main burst, flooding the site and floating away the newly installed heating oil tank. Should any of the contractors or architects be alive now, they'd probably laugh about it – but it's one of those things that just wasn't funny then.
By spring, city and school officials were hopeful the schools could open in April or May to give the kids a break from dual sessions into which they had been forced by overcrowding at their "old" schools and, too, to give them a "getting acquainted period" at their new ones.
It wasn't to be. By May, realizing the finishing touches were taking too long, everyone threw in the towel and decided Charlotte and Fairgrounds would open in the fall, becoming the city's seventh and eighth elementary schools.