Chappell continues to follow in the family footsteps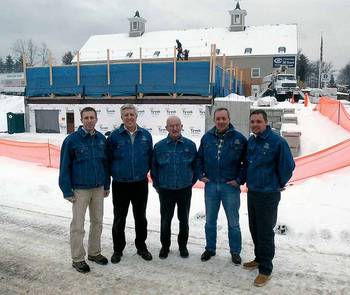 In September 2005, Brad and Corey Chappell, respectively vice president and president of Chappell Tractor, approved a project that would result in adding 14,000 square feet to their tractor/heavy equipment dealership building at 454 Route 13 South, Milford.
The new facility will house Chappell Tractor and BB Chain, featuring a new tractor showroom, lawn and garden showroom and added space for the company's newest department, Outfitters by Chappell, offering a complete line of clothing, shoes and boots including Carhartt, Columbia, Sorel and much more.
The new Chappell Tractor facility will be a three-story post-and-beam structure, including a stone hearth and seating area for customers. The offices are designed to better accommodate the functional activities of the dealership, allowing more room to showcase equipment and implements indoors.
"This will be the fifth expansion in as many decades," said Corey Chappell. "Our grandfather George and great-grandfather Perley started this business from the family barn back in 1955. In 1960, the dealership moved to a 36-by-72-foot cement block building on Route 13. The development of Route 101 in 1970 forced a move to a 7,200-square-foot structural steel building up the road, with an addition of a lawn and garden showroom that followed not too long after."
In 1985, he added, "our fathers Kent and Roger Chappell built the post-and-beam building we are in now. Brad and I wanted to follow in the family footsteps by staying unique and to continue to provide customers the personal attention they deserve. We will have a one-of-a-kind indoor showroom for the equipment industry. Additionally, our lawn and garden section will be much larger than what we have now, only enhancing our ability to help people with their questions and find the right piece of equipment for their needs the first time."
"In 1994, Chappell Tractor Sales purchased B-B Chain from retiring Bob Bragdon, who founded and operated B-B Chain since in 1965," said Jason Cote, General Manager. "We operate B-B Chain from both Chappell Tractor locations and if a customer can't make it to B-B Chain, B-B Chain will come to the customer!" We are the only company that comes to your door." Today, our drivers service more than 720 towns in the New Hampshire, Massachusetts and Vermont area."
B-B Chain will expand along with the Milford showroom.
In 1998, the company expanded outside of Milford, opening a second location Chappell Tractor East, on Route 125 in Brentwood.
"Chappell Tractor East started with an 8,000-square-foot structural steel building," said Brad Chappell. "In 2002, we doubled the shop and showroom space by adding another 9,600 square feet, complete with a post-and-beam porch and entryway."
Both Chappell locations are known for their dedication to serving all customers, with the best quality products, and knowledgeable parts and service department staff. Both also have a down-home, friendly atmosphere. At Chappell Tractor You'll notice the difference.
For more information, contact Chappell Tractor at 800-698-2640 or visit ChappellTractor.com.