Center gets new technology for cancer treatment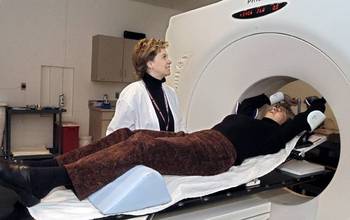 NASHUA – The Nashua Regional Cancer Center has some good news for patients: a CT scanner and computer software designed to enhance the complex planning process that precedes radiation therapy.
The acquisition of the machine and software are significant because they provide area cancer patients with the most advanced treatments available, said Barbara Kimball, the oncology-certified nurse who serves as executive director of the cancer center.
"We're committed to staying current with state-of-the-art radiation therapy," Kimball said.
The center, a collaboration of Southern New Hampshire Medical Center, St. Joseph Hospital and Mary Hitchcock Memorial Hospital, has invested almost $5 million in the past three years to acquire the new machine and software and pay for staff training, she said.
For an estimated 10 percent of cancer patients receiving care at the center, the new technology can improve treatment outcomes. The highly specialized and costly computer software the radiation treatment utilizes can produce three-dimensional images of a tumor, allowing for more precise and higher-dose radiation to the tumor while sparing surrounding normal tissue. The technology, moreover, allows medical experts to plan radiation delivery based on the tumor's size, shape and location.
During treatment, radiation is delivered through processes known as "conformal" and intensity modulated radiation therapy, or IMRT. IMRT, Kimball said, has been called "the most significant breakthrough in radiation treatment in the past 30 years."
The technology depends on specialized software that has the capacity to fuse images from PET scans, MRIs, and CT scans and produce plans used to deliver IMRT.
These plans are transferred to a machine that delivers radiation to the tumor, modulating the intensity of the radiation beams.
Available for clinical application for about four years, the technology is particularly useful in treating tumors of the head, neck, spine, prostate, lung, liver, and brain, Kimball said.
It has been available in New Hampshire for the past 18 months, said Dr. Donald Weiss, radiation oncologist and medical director at the NRCC.
Weiss said similar technology is being used at the Elliot Hospital in Manchester and Wentworth-Douglass Hospital in Dover. His practice, Radiation Oncology Associates, serves communities across the state, caring for about 250 patients daily.