Center for Orthopaedic Care sets standard for excellence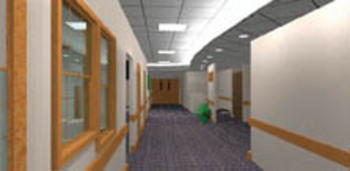 With 20 highly skilled orthopaedic surgeons on staff, Concord Hospital provides the largest orthopaedic specialty service in the state. Its Center for Orthopaedic Care offers comprehensive care, from prevention and diagnostics to therapeutic treatments, surgery and rehabilitation.
The center, New Hampshire's leader in comprehensive orthopaedic care for the whole family, features a newly expanded orthopaedic inpatient unit and rehab gym which includes:
– 23 dedicated orthopaedic beds
– Larger private and semi-private rooms
– Multiple nursing stations
– "Rest" stations in corridors and distance markers signifying ambulation goals
– A state-of-the-art rehabilitation gym including: a kitchen set-up, complete with a stove, refrigerator and other kitchen items to facilitate home management; one half of a car so individuals can practice getting in and out safely; a balance suspension system for patients at high risk of falling; patient/family waiting room; and a private consult room.
The hospital also has a dedicated orthopaedic operating room and will open a second room this summer designed and primarily used for orthopaedic surgery. The second orthopaedic room is a newly constructed operating suite to accommodate the large number and scope of orthopaedic surgeries performed at the hospital.
To learn more about services at the Center for Orthopaedic Care, visit concordhospital.org or call 225-2711.