'Celebrity' wines: Some are hits, some are hype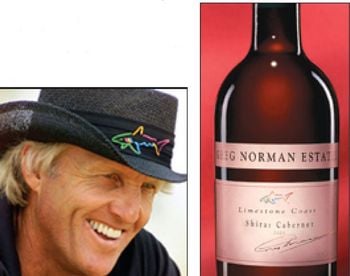 Summer is the perfect time for enjoying a blockbuster movie, taking a country drive, playing a round of golf or simply sipping a glass of wine. Top Shelf has combined the best activities of the season in taking a closer look at celebrity-backed wines.
Often the stories behind how the vineyards came to be associated with a famous person are just as interesting as what is in the bottle:
• Fess Parker Santa Barbara County Chardonnay, 2004 ($17.99) – Yup, this wine is made by Davy Crockett — an' durn good wine it is, too. Fess Parker, a Texas native, was cast as Walt Disney's "Davy Crockett" in the mid-1950s and "Daniel Boone" for television in the mid-1960s.
In 1989, he and son Eli began planting vines in the Santa Ynez Valley with the intent of selling the fruit to other winemakers, but soon more acres and their own label came to fruition.
Eli became head winemaker in 1995 and president of the company in 1996, and Fess' daughter Ashley became marketing director 1998.
Pale gold, this Chardonnay has scents of banana and fig in the nose and deep tropical fruit flavors in the mouth. Rich notes of toast and caramel with a touch of oak rounded out the wine. I like my Chardonnays from warmer growing regions, so this one is a winner for me.
• Francis Coppola Claret Diamond Collection, Black Label, 2004 ($16.99) — No "apocalypse" here — just a great wine.
Francis Coppola, director of such films as "Apocalypse Now" and "The Godfather," was looking to buy a summer home and make a little wine like his grandparents did. He bought the former Niebaum estate in Inglenook, Calif., in 1975 and spent 25 years acquiring all the vineyards belonging to the original property when it was first established in 1880 by a sea captain and Alaskan fur trader named Gustav Niebaum.
Today Coppola's Diamond Series wines are made at the former Chateau Souverain winery in Geyserville, Sonoma County.
The value-level Diamond Series Black Label Claret is composed primarily of Cabernet Sauvignon with dollops of Merlot, Cabernet Franc, Malbec and others. Needless to say, it's a red you can't refuse. A deep, inky garnet color, the wine has spicy notes of plums and black cherries with touches of allspice and anise and solid tannins. A great wine for the price.
• Greg Norman Estates Limestone Coast Shiraz-Cabernet, 2002 ($14.99) — Aussie golf great Greg Norman launched his wine label in 1999 in partnership with big-time distributors Foster's Wine Estates (yes, mate, it's Foster's beer). Norman lent mostly his name and his personal taste to the wine, rather than his vintner's skills.
I wouldn't say The Shark's wine bites, but it's not exactly a hole-in-one either. I've been drinking Norman's Australian wines for several years, and previous vintages have been better. It's certainly drinkable, but just not stellar in the price point like the Coppola.
Plum flavors with woodsy notes of cedar are structured around vanilla notes and soft tannins.
• MacMurray Ranch Central Coast Pinot Noir, 2005 ($18.99) — Actor Fred MacMurray portrayed such beloved characters as Disney's classic, "The Absent-Minded Professor," and the father on the 1960s sitcom, "My Three Sons" as well as had against-type roles in "Double Indemnity" (1944), "The Caine Mutiny" (1954) and many others.
MacMurray bought the ranch in Sonoma County's Russian River Valley in 1941, and raised his family there, working the land as a rancher, not merely visiting the property as a weekend retreat. Although the vineyards came after his death in 1991, he was a gourmet chef and had a deep appreciation for California wine before his health made him put aside aspirations of planting vines.
After his death, Kate MacMurray, Fred's daughter
with actress and wife June Haver, planted grapes in
1997 in partnership with Gallo. Today Kate is the wine's brand ambassador and lives in the house built by her father.
This Pinot Noir has a lovely character with fruit and vanilla with spicy notes mid-palate and a touch of oak to round out the wine.
• Firestone Vineyard Select Central Coast Riesling, 2005 ($11.99) — Harvey Firestone, founder of the Firestone tire company, loved the land from his childhood spent on a Midwestern farm in Ohio, but it was his son Leonard who bought ranchland in Santa Barbara County's Santa Ynez Valley and planted the first vines in the early 1970s.
Crisp and off-dry with a touch of spritz, this Riesling is the perfect wine for summer. Flavors of apples and apricots are balanced with spicy notes and floral scents.
• Silverado Vineyards Napa Valley Cabernet Sauvignon, 2003 ($21.99) — Yet another vineyard with ties to Walt Disney. Silverado Vineyards was purchased by Ron Miller, president and CEO of the Walt Disney Company from 1971 to 1983, with his wife Diane (Disney) Miller and Lillian Disney, widow of Walt Disney, in 1976. Production began in the Stags Leap district in 1980.
One of the first quality wines (that is, not Boone's Farm wine) I ever tasted was a 1992 Silverado Stags Leap Cabernet Sauvignon, celebrating my first wedding anniversary at a tony Italian restaurant in North Scottsdale, Ariz. While nothing can touch that memory, this was close. This rich Cabernet is full of velvety tannins and deep plum and chocolate flavors, with a touch of spice and even elusive tobacco notes.