CD label hits it big with Cadillac venture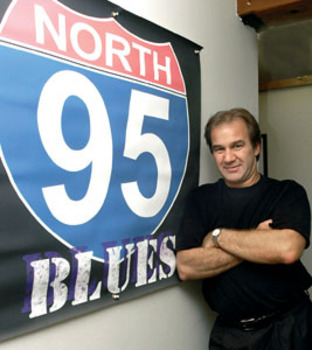 Just shy of its second anniversary, the birth of an unprecedented working relationship with one of America's most well-known automobile marques has a New Hampshire record company doing anything but singing the blues.
Carving out a niche in the world of blues and Americana music is what 95 North Records set out to do when it entered the music scene in 2003. Owned by bass player Chris Wood, 95 North Records calls the Monadnock Region town of Swanzey home. It evolved from Frying Pan Records; a small label Wood created in the 1990s to release his own music. The company now releases, promotes, markets and distributes the music of 14 blues and Americana artists that it represents nationwide.
The roster of musicians includes David Maxwell, Tom Gillam, Robin Rogers and the Tom Reese Project. But while record company president Bill Hurley and his four-member team are pleased with their growing list of new musicians, what's really been a high note for the firm is the recent completion of a project that spawned from nostalgic banter between Hurley and Wood around the time 95 North Records was first conceived.
"Fins, Chrome and the Open Road, a Tribute to the Cadillac" is the compilation of 21 songs by 24 blues musicians who pay homage to one of America's most beloved automobiles – the Cadillac.
"Chris and I were on our way to New York when we started talking about how many songs have been written about the Cadillac. I found a list of 440 on the Internet and thought what a great thing it would be to put a bunch of them together on one CD," Hurley said during a conversation in his Swanzey office, where he works surrounded by photos taken with such music legends as Phil Collins, Pete Townshend and Bette Midler.
More than a year in the making, "Fins, Chrome and the Open Road" debuted at No. 29 on the Americana Airway Chart following its June 14 release. Its steady rise to No. 12 indicates just how strongly Americana and blues fans and Cadillac lovers across the country have embraced the collection.
"Start to finish, each track is a perfect joyride," said Doug Aborn, owner of the Rynborn Restaurant and Blues Club in Keene.
"95 North's tribute to the Cadillac is mightily driven to perfection," said Bob Putignano, president of the New York Blues and Jazz Society.
For Alan Shapiro of Sin City Marketing in Los Angeles, Calif., the new collection is "beyond a tribute to the classic Cadillac — it's a great CD."
'Response was great'
The Cadillac project traveled an arduous road before earning its first spin on the public airways. Hurley, Wood and the rest of the 95 North Records team knew the idea had possibilities. But their faith was tested numerous times, during the nine months and four rejections they endured before General Motors finally got behind the project.
Well before approaching the automotive giant, Hurley formulated a business plan and began contacting musicians from his label and around the country seeking music for the project.
"The response was great. People were like, 'This is really cool,'" said Hurley, whose 25 years in the music business includes 15 years with Atlantic Records. "They were all telling stories about driving around in their Dad's Caddy when they were kids."
Although original recordings for the collection were not initially mandated, Hurley said artists began writing new material rather than re-recording old songs. The result? A great mix of original lyrics with a few nostalgic remixes of Cadillac hits, like Bob Walsh's rendition of "Brand New Cadillac," Jim Lauderdale doing "One Piece at a Time" and Rosie Flores putting her own twist on Bruce Springsteen's classic, "Cadillac Ranch."
Other songs include tunes by W.C. Handy Award winners Rory Block, Charlie Musselwhite and Little Milton, among others.
With the rough road behind them and indications from airway ratings looking good, the CD was released to the public on July 12. According to Hurley, distribution will be as unconventional as the record company's partnership with GM.
"We're going to be using so many out-of-the-box ideas and nontraditional approaches," Hurley said citing auto parts stores and dealerships as venues for sales of the tribute CD.
"There are over 1,400 GM and Cadillac dealers across the U.S. and Canada. They do a big retail business with Cadillac T-shirts, hats, mugs — that kind of thing," Hurley said. "If each dealership sells just a modest number of these CDs we could be looking at 70,000 units."
QVC is another possibility, Hurley said, noting that the shopping channel celebrates a Cadillac Day twice a year. "They're very interested. We could possibly sell 30,000 with them."
Looking for hits
Considering the fact that sales of 25,000 is considered good for a big blues CD (while a typical Top 40 collection can sell 2 million copies), these numbers could be fantastic for the New Hampshire label.
Despite the unknowns associated with treading along new distribution paths, Hurley said the release of "Fins, Chrome and the Open Road" has the potential to increase 95 North's 2004 sales records by five times.
Sales dollars are not the only thing Hurley and Wood hope to reap with the release of the Cadillac tribute, however. Hurley is hopeful the nationwide exposure of the 95 North artists appearing on the CD will increase their popularity, leading to success for the individual artists as well as 95 North Records as a label.
Described as a "boutique record business" by Hurley, the fledgling company bucked the system early on, focusing on promoting the music they had rather than on distribution — something other small labels considered crazy, Hurley said. But this was one place Hurley's 25 years in the music business paid off.
"I said, 'I'm going to spend money and time getting my music on the radio first.' I knew I needed records and hits, then distribution would come to me," Hurley said. "That's why we're succeeding. We built the brand first."
Even with the changes technology is bringing to the music industry today with satellite, digital and the Internet, Hurley remains optimistic. While he watches some of the large labels struggle under the weight of top-heavy management, he finds comfort in building a business with modest goals in mind.
In fact, technology has proven itself a friend to smaller labels and individual artists according to Hurley. With a generation that has grown up getting so much of its music from around the globe via chat rooms and other Internet sources, labels like 95 North Records are able to use their Internet blues station (95.5 at shootcast.com), in addition to nationwide radio play, to bring music by the talent they represent to ears well beyond he town limits of Swanzey, N.H.
"We will continue to carve out a niche and do the best we can in that niche," Hurley said. "We will continue on a path of being a modern, innovative company. But we will always remember that it all comes back to the artists — without them, you're nothing."