CCA Global co-founder recognized for helping to build 'smart homes' for quadruple amputees
New Hampshire's Brodsky honored for work to aid wounded veterans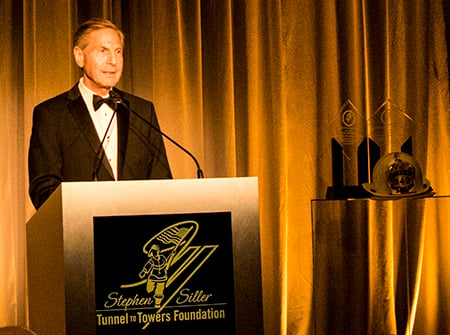 Howard Brodsky, co-founder of Manchester-based CCA Global Partners, was honored last month for his work in helping an effort to design and build homes that will allow veterans who are quadruple amputees to live more independently.
Since Brodsky began his involvement five years ago with the Stephen Siller Tunnel to Towers Foundation's Building for America's Bravest program, he has helped donate flooring installation services in 56 of the so-called "smart homes" for wounded vets and has pledged to provide help for a total of 200 homes.
For his commitment, Brodsky was among three individuals honored by the endowment on April 24 in New York City.
The other two honorees were Jeff Lorberbaum, chairman and CEO of Mohawk Industries, and Peter Dunn, president of CBS Television Stations.
"Building for America's Bravest is doing life-changing work for those who have served our country. Medical technology has enhanced the quality of life for these individuals, and I'm so pleased that CCA Global can be part of enhancing the quality of living through the construction of these smart homes," Brodsky said.
The foundation was started to honor the memory of Stephen Siller, a firefighter who died saving others on Sept. 11, 2001. Its goal is to continue Siller's legacy through its programs that support first responders and catastrophically injured service members.
Frank Siller, chairman and CEO of the Stephen Siller Tunnel to Towers Foundation, praised Brodsky for having "chosen a path that requires him to look far beyond himself to ensure the well-being of veterans and first responders. Acting upon those values that matter most, Howard and, through his leadership, CCA Global Partners have unfailingly demonstrated great vision and commitment in their vital work with the Tunnel to Towers Foundation."
CCA Global Partners is a cooperative established in 1984 with the launch of Carpet One and now includes more than 3,500 retail stores in the U.S. and abroad through 13 different businesses. Carpet One, which now has over 1,000 locations, has donated the flooring work in the smart homes. In addition, Carpet One store owners and employees helped raise over $100,000 for the annual Tunnel to Towers 5k road race in October 2016.