Caution urged for all who use preserve in hunting season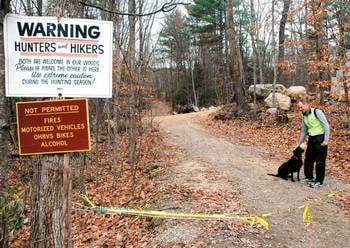 AMHERST – Janice Kelleigh doesn't hike through Joe English Reservation during hunting season without wearing orange. When she used to walk her old beagles through the conservation land near Route 101, she tied bright scarves and bells to their collars.
Kelleigh said that is the kind of precaution anyone walking through the woods this time of year should practice.
"People have to use more common sense. It's hunting season. You live in New Hampshire," she said.
Kelleigh and other area residents and dog lovers are taking a closer look at the interaction between hunters and hikers at the reservation after a dog was shot and killed there last week.
Andrew Duane's golden retriever, Duncan, was shot Nov. 11 while Duane was hiking with a friend at the nature preserve. The dog's owner said Duncan was too injured to return home from the animal hospital, and Duncan died Saturday.
The Merrimack man said he assumed the person who shot his dog was a hunter. Duane said he did not know at the time that hunting was allowed at the preserve.
Duane said Thursday that he still plans on making an appeal to have hunting banned at the Joe English Reservation.
"Longer term, I am going to write to state reps to get some reasonable penalties in place for people who shoot carelessly," Duane said via e-mail.
Amherst police did not return phone calls about the status of their investigation into the shooting.
According to the state Fish and Game Department's Web site, anyone found guilty of negligently discharging a firearm or "causing death, injury or damage to domestic animals or property while hunting could lose his or her hunting privileges for a minimum of one year."
Kelleigh said signs reminding hikers to share the area with hunters are posted at the beginning of every trail. Anyone who frequents the area should know about them, she said, adding that she could see how people could miss a sign if they were talking to someone while entering a trail.
Jan Woodbury, who founded the Peabody Environmental Center next to the Joe English Reservation, agreed the hunting signs are visible.
"There are many, many signs at the start of each trailhead – in orange – and a big metal sign in the parking lot, and another sign in the parking lot about hunters and hikers sharing the woods," Woodbury said in an e-mail.
However, she added, hikers traveling in areas posted "No Hunting" should exhibit the same safety precautions.
"I have 16 acres (at home) and it's posted, and I still see hunters," Woodbury said in a telephone interview. "Hunting season – it exists. You have to learn to cohabitate."
Gary Zetterberg often runs through the woods of Joe English with his black Lab, Shirley. After learning of Duncan's death, he is even more concerned for his dog's safety – and his own – while on the trails.
"I'm apprehensive about running in the woods during hunting season, but I do it anyway," Zetterberg said. "Personally, I would not go running at dawn or dusk when hunters typically are out."
During hunting season last year, Zetterberg was running on a trail when he spotted a hunter dressed in camouflage deep in the woods. When the hunter heard his footsteps, Zetterberg said, the man swung around and aimed his gun right at him.
Even though the hunter quickly realized he had spotted a runner, and did not fire a shot, the incident left Zetterberg feeling a little uneasy.
"Some of these guys take a shot at anything that moves," Zetterberg said.
Woodbury said hunters are basically a necessity in an area that large – the preserve is now a little larger than 600 acres due to land acquisitions last year – to keep the deer population at a healthy level.
She also said hikers should be aware of the possible presence of hunters. The state's hunting season extends approximately from Sept. 15-Dec. 15.
"Fish and Game has been advertising for weeks that it's hunting season and you should wear orange when you're hiking," she said.
Woodbury said hikers should mark both themselves and their animals with bright colors like fluorescent orange, pink and purple. Avoid wearing white, she said, because hunters look for the white tail of a deer. Dog vests are available in bright colors, and bandanas work, too.
Jim Bowen, who lives near the reservation, said dog owners need to abide by the town's leash law, which he said requires a dog to be in close physical proximity to its owner, whether restrained by a leash or not.
Anyone with an unfriendly dog should always keep it physically restrained, Bowen added.
The Amherst resident also said both dogs and owners should wear orange when they're in the woods. Bowen wears an orange hat and has a matching vest for his golden retriever, Cherokee.
"This is the time of year it's prudent to do that," Bowen said.
HUNTING SAFETY RULES
Hunters have to take precautions, too, according to the state Fish and Game Department's Web site. Besides offering schedules for hunter education courses, the site posts the "Ten Commandments of Hunting Safety." The commandments include:
– Treat every firearm with the same respect due a loaded firearm.
– Control the direction of your firearm's muzzle.
– Be sure of your target and what is beyond it.
– Be sure the barrel and action are clear of obstructions.
– Unload firearms when not in use.
– Never point a firearm at anything you do not want to shoot.
– Never climb a fence or tree, or jump a ditch or log, with a loaded firearm.
– Never shoot a bullet at a flat, hard surface or water.
– Store firearms and ammunition separately.
– Avoid alcoholic beverages or other mood-altering drugs before or while shooting.