Catholic Charities fills a critical N.H. need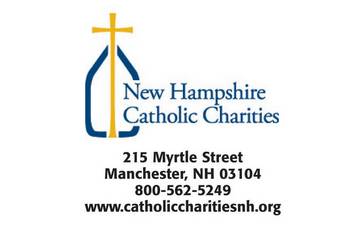 Catholic Charities has come a long way in New Hampshire since it started in 1945 with just three staff members working with local orphanages to improve child care. Today, New Hampshire Catholic Charities is the largest private non-profit social service agency in the state, with 850 employees serving more than 60,000 people each year.
From the Saint Charles Children's Home in Rochester to the eight rehabilitation and nursing centers Catholic Charities owns and manages throughout the state, the agency is at work assisting young and old alike. Catholic Charities continues to find loving homes for children in need of adoption, assisting both birth parents and adopting couples. The agency's work is especially critical in finding homes for children with special needs.
Catholic Charities also runs the only food bank in the state.
Last year, the New Hampshire Food Bank distributed 4.2 million pounds of food to nearly 350 agencies, feeding people at soup kitchens, treatment centers, and after-school programs. As a result, those agencies were able to provide food for 95,000 people in poverty throughout New Hampshire. The Food Bank will double in size in the next three to five years with the addition of a new industrial-sized kitchen and added classroom space for new job training opportunities.
"We as an organization share a special obligation to not only help people in crisis, but to help lift them from the circumstances that have wrought that crisis," said Thomas Blonski, the first president and CEO of New Hampshire Catholic Charities. "We don't just feed the hungry, we seek to empower the hungry to feed themselves, knowing that real charity restores, affirms and supports human dignity."
The Immigrant and Refugee Services Program of Catholic Charities provides legal services to new arrivals from "green card" to naturalization, or citizenship, status. The Our Place program in Manchester helps pregnant and parenting teens by offering individual counseling, crisis intervention, pre-natal care classes, parenting skills classes and nutritional counseling. Young parents are also assisted in goal setting and making positive changes in their lives.
Through its 10 district offices around the state, New Hampshire Catholic Charities provides counseling, parish and community outreach services.
"Many people think we're just an adoption agency," said Blonski. And some are under the misconception that Catholic Charities helps only Catholics. "We help people of all socio-economic backgrounds and people of all faiths," Blonski said. The agency has grown over the years as it has found new ways to help meet the emerging needs of those suffering from hardship or family crises.
Close to 93 cents of every dollar raised by Catholic Charities goes directly to the many efforts that benefit and empower the needy of New Hampshire. "We have been able to assist and empower tens of thousands of individuals who have sought our help because of the strong support of individuals and businesses throughout the state," said Blonski. "I am confident that people of all faiths and backgrounds will continue to embrace the mission of New Hampshire Catholic Charities and continue to support us."
The NHBR Business Profiles section contains content provided by New Hampshire Business Review advertisers.