Catching on: Willows Plant-Based Eatery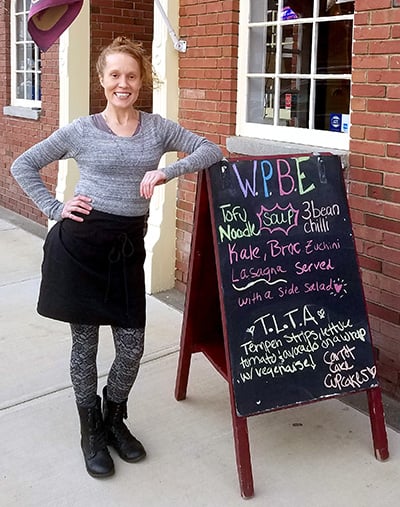 Since it opened in the spring of 2015, Willows Plant-Based Eatery has quickly established itself as a must-visit vegan and vegetarian café in Concord.
Owner and chef Willow Mauck's lifelong passion for sustainability, animal welfare and rights and healthy, organic foods follows a family tradition. Mauck has been a vegetarian all her life and was inspired by and learned much from her mother Norma, who owns Susty's Café in Northwood, a regional favorite for vegans and vegetarians.
In a sense, Willows Plant-Based Eatery followed in the footsteps of both her mother's venue and the Spoon Revolution, the vegan restaurant that preceded it at the same 55 S. Main St. location. When the owner of Spoon Revolution decided to sell, he contacted Norma and Willow Mauck to gauge their interest. After initial hesitation, Mauck realized the potential in Concord, which had a legacy of popular vegan/vegetarian restaurants in Spoon Revolution and Café Indigo.
More than two years later, Mauck's assessment has proved correct. Her staff of six serves lunch and dinner and the restaurant offers a diverse selection of soups, salads, wraps, sandwiches, burgers, light plates, hearty bowls, sweets, smoothies and a daily specials menu.
Mauck has carefully cultivated and expanded the menu with an eye to tap into a wider market. She believes that good, healthy fare can attract customers who aren't vegan or vegetarian.
"We're doing pretty well and have a great customer base," Mauck said. She draws organic, plant-based food ingredients locally and from around northern New England. She works closely with Brookford Farm in Canterbury, Red Manse Farm in Loudon and the Concord Co-op to get organic produce and vegetables. Additionally, she taps in to the vast Crown O'Maine organic co-op network for organic breads and other supplies.
Mauck said one needs only to look at the dramatic growth of organic farms and year-round organic greenhouses to understand the continued demand for quality ingredients and very healthy recipes.
"We see the trend pretty clearly. People are definitely more conscious about their food choices. They are learning more about the connections between healthy eating and how so much of their food is processed and not very healthy. Our plant-based choices give them an opportunity for tasty and nutritious meals," Mauck said.
It's no surprise that her eatery also practices recycling, reusing and sustainability as second nature. Food waste is composted when possible and paper waste is kept to a minimum. All cleaning products are organic or kept to a bare minimum of chemical use.
Mauck admits she was reluctant to use her name in the business but says keeping the apostrophe "s" from Willow gives the company moniker a natural flow with the focus on plant-based eatery.
"I really like the name now and our customers do as well," she said.
NH Business Review's Sustainable Entrepreneurship series is run in partnership with the Green Alliance. To learn more about the alliance, visit greenalliance.biz.