Cash sales percentage continues to fall in NH, nationally
Now at the lowest level in nine years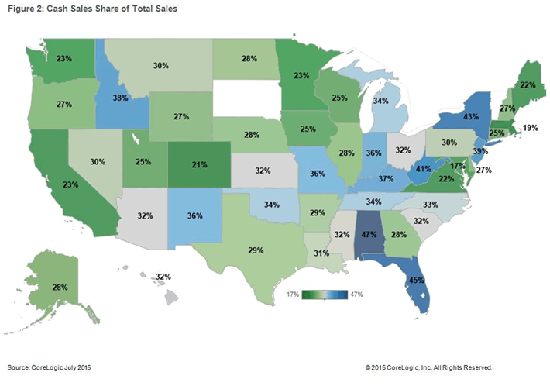 The percentage of cash sales in home transactions nationally fell in July to 30.8 percent from 34.2 percent in July 2014, according to real estate data analytics firm CoreLogic.
In New Hampshire, the percentage of cash sales fell from 29 percent in July 2014 to 27 percent, CoreLogic said.
According to the firm, the year-over-year share of cash sales has fallen each month since January 2013 and is at its lowest level in nine years.
Month over month, cash sales nationally fell by an average 0.5 percentage points in July 2015 compared with June 2015. But in New Hampshire the share actually rose from 26 percent in June. But CoreLogic warned that, due to seasonality in the housing market, cash sales share comparisons should be made on a year-over-year basis.
The cash sales share peaked in January 2011 when cash transactions made up 46.5 percent of total home sales nationally. Prior to the housing crisis, the cash sales share of total home sales averaged approximately 25 percent.