Cars to watch for, and some to drool over, in 2007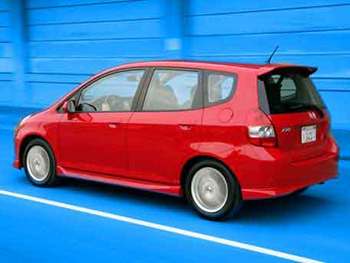 With record-high gas prices and record-high profits, no matter how many times Congress calls in oil company executives before them for a tongue-lashing, no one expects gas prices to go back to $1.50 a gallon soon, if ever again.
The 2007 model year has many car manufacturers jammed between what was on their drawing boards before gas prices soared, the gas-hungry power they think Americans still want and what the financially-stressed public needs in gas-stingy models. Retooling factories for new engines that go easy on gas just doesn't happen quickly in the United States.
Although many car makers continue to put more power under the hood, and others make promises about hybrids in the future, it's still primarily the Japanese manufacturers of Honda, Toyota, Lexus and Nissan that offer hybrid options from family sedans today.
Personal performance cars
Saturn Sky Open Roadster: Most expect BMW and Jaguar to have sexy two-seater, personal-drivers that are quick as a bunny, but when practical Saturn gets one it attracts attention. Sky is built on the Pontiac Solstice platform with the same Ecotec engine, but Sky has an edgier, attention-keeping styling. Price tag is more than reasonable, starting at under $24,000.
The base model has a 2.4 liter/177 horsepower, double overhead cam, inline-four cylinder engine, but the optional 2L/260HP, DOHC, turbo I4 gets to 60 miles per hour in a very spunky 5.5 seconds. This is a rear-wheel drive with the choice of a five-speed manual or automatic transmission, getting 19-22 mpg city/26-30 highway. Three-year/36,000-mile standard GM warranty applies.
BMW Z4 M Coupe: Drive this car and your rear end will get more attention than Jennifer Lopez, and rightfully so. This fastback is different than BMW's former Z coupes, which looked like someone stuck a hat on the open roadster. This Z4 has a head-turning style all its own, with power oozing from its rear-wheel drive back haunches, especially in the M version. Price is hardcore, too, coming in at about $50,000.
With BMW's four-year/50,000-mile warranty, the M offers a 3.2L/330HP, DOHC, inline-6 that can get you to 60 mpg in 4.9 seconds. Mileage on the Z4 is reported to be 16-21 city/24-30 highway, but I'd take that with a grain of salt for the M edition. Transmissions offered are a six-speed manual or automatic, but if you don't want the manual stick, you probably wear a hairnet to a picnic.
Jaguar XKR: This car's profile is death-defying, and now it's just as powerful as it is stunningly attractive. The XK can thank aluminum for its light weight and a more powerful — and optional — 4.2L/400HP, supercharged V8 that produces more than 400 pound-feet of torque. With the optional engine this cat gets to 60 mph in just under six seconds. The car offers a six-speed automatic transmission in the form of a steering wheel paddle shift, similar to Formula 1 racers.
This Jag comes with rear wheel drive, lots of technology, bells and whistles, as well as a four-year/50,000-mile warranty. This car isn't for the financially faint of heart. Cost ranges from about $76,000 to $93,000, with the convertible more than the coupe.
Reasonable drives
Honda Fit: Harkening back to the day of the popular, good looking — but long defunct — CRX, Honda brings an economy sub-compact back to the States just in time for gasoline sticker shock. This is a great car for commuters, whether college students or economy-minded executives. The Fit has front-wheel drive, four-doors and a hatchback, with a reasonable price tag for a Honda, too, starting at about $14,500.
Although it's no tire-smoker, the car is reported to move nicely with a 1.5L/109HP, single overhead cam, I4 engine. Transmission options are five-speed manual or automatic. It takes about 12 seconds to get to 60 mph, but that shouldn't earn its owners inferiority complexes. They'll get their positive feedback at the gas pump: Mileage estimates are 31-33 mpg city and 37-38 mpg highway. Honda's three-year/36,000-mile warranty applies.
VW Rabbit: Heaven be praised — VW's got a good-looking Rabbit, and it's about time. The price tag on this fifth-generation Rabbit starts at about $15,000, with many options, including two doors, four doors and engines that come in three different strengths that can crank the price up to more than $30,000. Warranty is four years/50,000 miles.
Base model engine on this front-wheel drive vehicle is a 2.5L/150HP, DOHC, inline-5, but others ramp up to a 2L/200HP, turbo I4, and the R32 with a 3.2L/250HP/V6. Transmissions come in five- and six-speed manual and automatic versions. Getting to 60 takes from just under six seconds with the R32 to 8.6 seconds with the base model. Mileage is as good as VW's reputation at 18-23 mpg city/26-32 mpg highway, unless you push the big engine to the max.
Mazdaspeed3: This car can take its deceptive four-door hatchback, front-wheel drive persona and moderate $23,000 price tag and blast off to 60 mph in less than six seconds. While the state trooper's looking for a Porsche, the Mazdaspeed3 sport compact will be bookin', true to its "zoom zoom" heritage, with a four-year/50,000-mile Mazda warranty.
Under its misleading, but attractive, skin sits a 2.3L/263HP turbo charged DOHC with a 16-valve inline-4 that can make 280 pound-feet of torque if it wants to. Fuel economy estimates are 20 mpg city/28 mpg highway with its six-speed manual tranny. If the specs on this cutie are correct, its spoiler is not just for show.
Sedans
Nissan Altima: Nissan joins the ranks of Toyota with gas/electric motor technology in an innovative fashion. Altima's hybrid engine comes from a licensing agreement with Toyota. With a limited release, to get this Altima Hybrid right now you may have to travel to Massachusetts, Vermont or Maine, where hybrid demand is highest, for it's not being sold in all 50 states. Prices range from about $19,000 to $33,000, with the hybrid most likely at the top of the scale. Warranty is three years/36,000 miles.
Altima is sleeker and more powerful in its redesign. Engine options offer more power in its DOHC, four cylinder, 2.5L/165HP base model, its 3.5L/265HP/V6, or its 2.5L/I4 plus 225HP electric motor combo. Transmissions available are six-speed manual or automatic. This is a stylish, front-wheel drive, midsize sedan with a hybrid that takes it from 0 to 60 in eight seconds. Because of its hybrid option, gas mileage ratings for its models stretch from 20-35 mpg city and 30-32 mpg highway.
Lexus LS 600h L: Estimated to arrive in spring of 2007, this is the first V8 hybrid on the market, and its really good-looking. It's being praised not only for its 5L/DOHC/V8 gasoline plus ultra-quiet 430HP electric combo engine and smooth automatic transmission, but also for its boatload of luxury appointments and four-year/50,000-mile warrantee. The car tells its driver when other vehicles and pedestrians are too close, offers five inches more leg room with its longer wheelbase, and there's an option to help drivers parallel-park. (Where was this when I was getting my license?)
Getting 24 mpg in the city and 30 mpg on the highway, the all-wheel drive LS 600h L hybrid offers the best mileage of any large, luxury sedan, while also getting to 60 mph in an estimated, and remarkable, 5.5 seconds. With a price ranging from $75,000 to $85,000, one might expect it to knit your socks, too.
Mercedes CLS550 or CLS63 AMG: Call it a four-door coupe, call it a luxury sport sedan — the CLS always has been gorgeous, but it's not just a pretty face anymore. This rear-wheel drive Mercedes is packing some serious muscle and a seven-speed automatic tranny. The 550 comes with a DOHC, 5.5L/382HP, 32-valve V8 making 391 pound-feet of torque. If for some unimaginable reason that's not enough for you, there's the 63 AMG with a 6.2L/507HP, V8. Zero to 60 comes in about 4.5 seconds for the 63 AMG and 5.5 seconds for the 550, neither of which should anyone shake a stick at, unless driving a Ferrari.
As with all cars, power costs more than its $66,000 to $88,000 sticker price. The 550 gets only 16 mpg city/22 mpg highway. The 63 AMG gets only 14 mpg city/20 mpg highway. As customary, lots of Mercedes goodies are included: The Pre-Safe braking and handling safety system is standard, as is a great sound system. If you have to have a Mercedes, you won't need a spoonful of sugar to wash a CLS down. It's as delicious as they come.
Cars to wait for … cars to die for
Alfa Romeo: What can I say; I've been dying for Alfa Romeo to return to the States ever since it left in 1995. Fiat's promised before, but this promise to send an Alfa over by 2009 seems like the real thing.
Alfa's Brera 2 + 2 coupe, open roadster Spider and the 159 are expected to sail across the Atlantic with revamped versions of the front-wheel drive models currently on sale in Europe. They should be available at Fiat's U.S. Maserati franchises. Engines may include the 3.2L/260HP/V6 or 2.2L Alfa engines. There also is talk of a special edition V8 Alfa with a Maserati engine making an appearance to launch Alfa's reincarnation in America spectacularly.
In its Brera coupe, Alfa Romeo offers what it's always done best: vim and vigor, stamina, styling and sexy sizzle. If Alfa comes back to the United States with the Brera coupe, you'll see grown men crying on the street corner as it passes by. Extraordinary beauty can elicit that much emotion; so can an Alfa Romeo.