Cards, Cavs out on top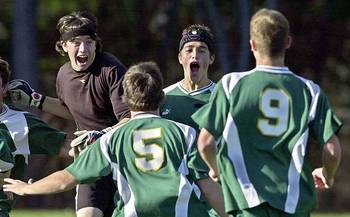 NASHUA – Following Sunday's 1-0 victory over three-time defending champion Exeter High School, Bishop Guertin boys soccer coach Tony Bellinger gave a long and detailed account of the strategy he employed to unseat the previously unbeaten Blue Hawks.
Most of it went right over the heads of the assembled media. Fortunately, his team was able to carry out the plan with precision.
The Cardinals were clearly the most explosive teams on offense in Class L this fall. But if Exeter has proven anything over the last three years, it's that defense wins championships.
So Bishop Guertin's first priority of Sunday was to keep Exeter junior Jeremy Tufts, who had scored both goals in a 2-0 regular-season victory over the Cardinals, off the board.
Bellinger chose sophomore Brendan McGee to mark Tufts and forced the Exeter offense in a certain direction. McGee did his job, and let Bishop Guertin's back four of stopper Eric Powers, sweeper Tom Zajac and outside defenders A.J. St. Lawrence and Mike Lazaris do the rest.
Exeter managed to get off a few quality shots from outside the penalty area, like a howitzer by Jeremy Tuck which went just over the crossbar midway through the second half. But until Kevin Daigle's scissor kick with under a minute left in the game, which was headed for the upper corner of the goal, they didn't have any chances from close range.
Enter senior goalkeeper Joe Putney, with the save of the game. Putney managed to get a hand on Daigle's blast, deflecting it off the crossbar and over the goal. On the ensuing corner kick, Exeter's last gasp, Putney flew threw the air and plucked a potentially dangerous ball from further play.
Then the Cardinals, many of whom had played together on an unbeaten freshmen team three years ago, were state champions.
"We soaked up a little pressure, which we planned,'' Bellinger said, "and Brendan McGee did just a fantastic job. His responsibility was to stay with Jeremy Tufts, who we knew was their main scoring threat.
"When they moved him back to midfield our guys shifted to compensate for it.''
As for a goal, Bellinger just figured that would take care of itself.
"The guys that we have up front, their scoring for the season speaks for itself,'' Bellinger said.
The only goal of the game was scored in the 16th minute of the first half by senior Zack Scofield, his team-leading 24th goal of the year. It came on a feed from McGee, but Scofield needed to beat a very tough defender and a senior goalie, Kyle Tufts, who had allowed just seven goals in 20 games and posted 14 shutouts.
"I touched it by one defender and put it in,'' Scofield said. "Against a defense like that you aren't going to get many chances, so you have to make it count.''
The game itself had more than a few parallels to last year's title game, in which Exeter beat Bishop Guertin 2-1 in overtime.
Leading 1-0 late in the first half last year, Bishop Guertin missed a penalty kick that might have put the game out of reach. On Sunday, with 17 minutes left, Exeter was given a penalty kick attempt when a Cardinals defender was called for a hand ball in the box.
Exeter senior Marcelo Guindon took the shot, but pushed it wide left, glancing off the outside of the post.
"He told me he kind of clipped the turf when he took it and didn't get much on it,'' Exeter coach Jim Tufts said. "But you know what, I'd put him right back out there to take the next one. He's as great a kid as he is a soccer player.''
The Curt Schilling Award went to Zajac, who played heavily taped and probably at about 70 percent with a high ankle sprain.
After winning three Class L titles for the first time in state history, did Tufts feel his luck finally ran out.
"Not at all,'' Tufts said. "There wasn't any luck involved in this one. BG played extremely well and we played well, and it was a great goal by Scofield. I thought every kid who went out there, on either side, played extremely well.''
Putney and Scofield revealed that the Cardinals drew inspiration before games from Al Pacino's locker-room speech in the football movie "Any Given Sunday.''
Bishop Guertin's football team, with Scofield as it's place kicker, is unbeaten going into the Division II playoffs.
Exeter, the two-time defending football champions, will be on the outside looking in. Kyle Tufts took care of the kicking duties for the Blue Hawks.
In a year of alternate outcomes, Bishop Guertin seems poised to take advantage.