Car club lets members dream in the fast lane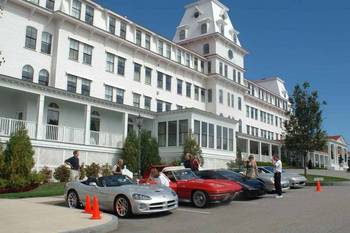 It's Friday afternoon. The work week was long, but the forecast is calling for a sunny autumn weekend — just perfect for a drive along the New England coast. You head home, park your navy blue sedan in the garage, run into the house to change, throw some clothes in a bag and return to the garage ready to hit the road.
Do you take the Porsche? Maybe the Lamborghini. Decision made – you'll go with the '66 Vette.
Sound like a dream? Not for members of the Premier Car Club, located in 17,000 square feet of unassuming warehouse space in Salem.
Purposely void of signage, the facility includes the club's business office, a clubhouse complete with high-definition television, gaming systems and leather seating and, of course, the cars all parked in meticulous order in what club owner Keith Wolters refers to as "the Bat Cave."
Opened in the summer of 2005, Premier Car Club brings to life for members dreams of owning their own fleet of exotic cars without the financial responsibility associated with upkeep.
"Even if you have money to burn, owning one of these cars can be like throwing money out the window," said Wolters, who bought his first car – a yellow Toyota Celica GT – at age 14, restoring and selling it before he had his first driver's license.
A commercial and industrial contractor and owner of a high-tech company, Wolters estimates he's owned in excess of 130 cars since he made his first purchase 22 years ago.
He now indulges his passion for specialty cars through Premier's collection, which currently contains 10 distinctive autos, including a silver Porsche Cabriolet 993, a 1966 convertible Corvette Roadster – red of course – and a sleek black Lamborghini Gallardo.
Conceived through Wolters' experience with shared plan ownership common at local airports and loosely based on the European model of specialty car clubs, the basic concept behind Premier is simple. Annual memberships allow auto enthusiasts to indulge their passion without having to shoulder the burden that goes along with ownership.
Though new to the New England area, the car club concept is growing in popularity in other parts of the country as drivers become familiar with the benefits.
Torbin Fuller, a former Ford Motor Company employee, was among the first to introduce the concept of car sharing to American drivers, opening Club Sportiva in San Francisco three years ago. Quick success led Fuller to the establishment of two more clubs in the Bay Area, with plans to take Sportiva national. Similar clubs have opened to enthusiastic welcomes in Arizona and New York.
'Pricey toys'
"The idea is really taking off," Olga Kharif, staff writer for Business Week wrote in a January article about the new national trend of car sharing through club membership. "And why not? Expensive as they are, car clubs allow members to afford pricey toys they might not be able to buy on their own."
For example, buying a new Porsche GT3 Coupe – including purchase price, lost interest, maintenance and insurance, among other things – can total more than $174,000 over three years. Resale value on the car at the end of the three years is estimated to be about $68,000.
A gold-level Premier Car Club membership — which includes up to 40 days behind the wheel of a Porsche or eight other equally impressive automobiles – runs about $14,000. After three years and $42,000, the Premier Car Club member may not have a car to resell but will have about $60,000 more in his or her pocket. What he or she won't have is concerns over maintenance, insurance or storage.
Premier offers four different personal memberships, with costs from $7,800 to $24,000. Wolters also offers 25 non-renewable introductory memberships at $4,500 for drivers not willing to commit such a large chunk of change. In addition, corporate memberships can be secured through Premier for $28,000.
All memberships, corporate and personal, are based on a point system and vary according to selection of cars, number of driving days and allowable number of drivers.
Corporate perks
Wolters believes Premier's continued success will be based on offering more than just an ownership alternative. For example, members of Premier have access to a personal concierge service, which offers everything from picking up dry cleaning to making dinner reservations.
"We can put together a great evening," Wolters said. "Pats tickets? A yacht in Boston Harbor? If you can dream it we can make it happen."
In addition, Premier frequently hosts gatherings meant to give members a chance to socialize. Vegas Nights, wine tastings and cigar nights are popular events.
"We try to create opportunities for people to come together in a fun way," said Wolters. "It's all about the experience, the mystique surrounding these cars. People will actually pull over just so they can look at the car as you drive by."
Occasional "test drives" are scheduled throughout the state, giving car enthusiasts the chance to try their dream car on for size. (More information about upcoming test drives can be found at Premier's website, Premiercarclub.com.)
Car Club membership is not just for individuals, said to Wolters, who views customized corporate Premier Car Club events as great alternatives to the usual company golf outings or barbecues.
Wolters said he has found that custom-designed "test drives" add a different flavor to strategic planning sessions, and the use of a Ferrari has proven to be a great way to say, "Thanks for a job well done." Corporate memberships also have proven beneficial as recruiting tools, Wolters said.
"We've seen an interest on the part of companies to create unique benefits – ones that show the company thinks outside the box," Wolters said. "I think we do that."
While Wolters declined to say how many members are enrolled in the club, he said response to the club has been positive since its inception. Steady growth has the young entrepreneur considering plans for the future.
Wolters expects to add another 60 cars to his Salem fleet over time. And plans to open to two new locations are under way.
"People want great memories to file away in that mental Rolodex," Wolters said. "Our goal here is to provide those great memories."