Car auction races the heart and peels the wallet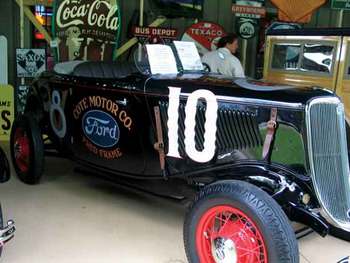 "I have one-ten! I have one-ten! Ten-ten-ten … C'mon, hurry up, guys! I've got to move on … One-fifteen! One-fifteen! One-seventeen! One-seventeen-five…"
This wasn't haggling at the flea market. And "one-ten" was not a buck and a dime.
This was the Dingman Ford Collection classic car auction held June 11 at the Dingman Estate in Kensington, presented by RM Auctions Inc.
Fifty classic Fords from 1932 to 1948 were auctioned, along with 1,000 neon, ceramic and tin road signs from the private collection of Michael Dingman, former CEO of Allied Signal and Fisher Scientific and a longtime director at Ford Motor Company. It was a "top shelf" event if there ever was one.
"He set out to build the world's finest flathead Ford V8 collections, and most Ford enthusiasts feel he's more than succeeded," said Mike Fairbairn, co-founder of Ontario, Canada-based RM Auctions. "Now Michael feels that it's time to share his collection with others, to pare back a bit and make room for possibly one or two really interesting Fords that he has yet to own."
Dingman has also raced some of these cars in competition and is a close friend of racing giant Jack Roush. Together, the pair restored many of the Fords in the collection.
The auction was held in a building that was one part garage, one part barn and one part two-story spectator gallery. Strung overhead were neon lights. Hundreds of them. It was as if a piece of Las Vegas was transported to Kensington and was stuck to the ceiling. Rexall Drugs. Edsel. Coca-Cola. Pontiac. And, of course, Ford. But the electricity to power the signs was nothing compared to the electricity in the air.
The voice of Brent Earlywine, an auctioneer with RM for five years, filled the space with a high-wattage tongue as beautiful rhythmically as it was blindingly fast.
"Every auctioneer has a certain pattern or 'groove,'" said Terry Lobzun, public relations director for RM. "He does what's called an 'American style' of auction. It's faster. When there are many lots [to auction], you have to move the pace. If there are fewer lots or the cars are more significant, a 'British,' or slower, style is used."
By "significant," we believe he means, "millions" versus mere "hundreds of thousands."
Of course, significant is also relative. Those neon signs, although costing much less than the autos, had some spark of their own. The highest bids for signs went to the Cloud 9 Motel for $21,000 and the Thunderbird Motel for $27,600.
Car of the Bambino
One of the most exciting things to see at an auction is a bidding war, and we were treated to a full-scale siege.
For a 1938 Lincoln Zephyr Convertible Coupe the bids bounced back and forth like a tennis ball at Wimbledon. Bid spotters hovered like guardian angels by the bidders' shoulders, gently counseling (I'd say egging) them. The lucky winner's wife held his arm down after the final bid left his wallet about $235,000 lighter.
But let's face it, 1,500 significant individuals probably didn't come here to buy a Coca-Cola sign or just any Ford. They came to see one significant car — the 1940 Lincoln Zephyr Continental Cabriolet that was believed to be once owned by Babe Ruth.
According to legend, Ruth was given the car in 1940, and it emerged several years later in Canada in the possession of a sportswriter who claimed the Bambino gave it to him.
Ruth's Continental changed hands several times and was eventually displayed in the Cars of the Stars Museum in Niagara Falls and at the Canadian Sports Hall of Fame. The car was then acquired by Dingman in 2001 and underwent a complete nuts-and-bolts restoration.
"With its long history attributing Babe Ruth ownership, a touch of mystery and its concourse-ready condition, this Lincoln is one of the most important and desirable of all of the hand-built 1940 Zephyr Continentals in the world," said Fairbairn.
In the end, Ruth's Lincoln went to an undisclosed bidder for $407,000 (after a buyer's premium), and Dingman himself made about $8 million on the auction.
That's sounds significantly "top shelf" to us.