Capitalizing on Mother Nature's HVAC system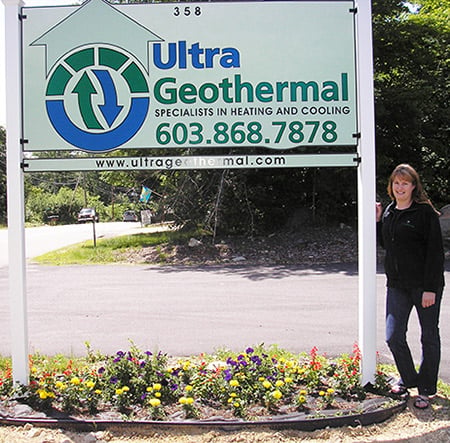 Without much fanfare, Ultra Geothermal of Barrington recently installed its 1,000th system and has become one of the top geothermal design and installer firms in all of New England.
Owned and run by the husband and wife team Darren Rice and Melissa Aho, the company's growth is reflective of a huge surge of interest in the residential renewable energy field. Before becoming Ultra Geothermal in 2007, the company had been a conventional HVAC heating and cooling company that also happened to install geothermal systems before shifting its mission to exclusively geothermal.
"As a company, we feel customers come to us and want to pay for the best service and quality possible," says Aho. "We felt the only way to achieve that was to focus solely on geothermal, in short because everything else – especially oil – was becoming so volatile and unpredictable."
According to the U.S. Environmental Protection Agency (EPA), geothermal is one of the cleanest and most efficient renewable energy sources available. Moreover, while geothermal systems seem complex, they require minimal attention once installed and can typically be maintained by the homeowner. On average, installing a new system on an existing home takes only a few weeks, with a result of significant energy cost savings
Aho has practiced what she preaches for the business and at home. "I have geothermal in my personal home and there has been geothermal at our office for well over 10 years now," she explained. "I am in the process of building a new house and it also will be heated and cooled with geothermal. I feel it is the safest heating system to raise my children because it is a fossil fuel free system with no risk of carbon monoxide issues or fire hazards. It is a very reliable heating system that can be budgeted for years to come."
Ultra Geothermal only does residential installations on new construction and retrofit homes ranging in size from 1,500 square-feet to 20,000 square feet. Aho said the only exception so far was at the 48-dorm room River Edge Apartments in Durham. "We treated that installation like a residence and it has been up and running since 2009 with fantastic cost savings to the building owner," Aho says.
Depending on size and type of project, Aho estimates that the return on investment can be between three to seven years for a new construction installation and 12 years for a retrofit installation. "Many customers choose these systems because they are looking for an environmental friendly solution to the fossil fuel crisis, but once it is installed they are amazed by all the other aspects that come along with the system," said Aho who turned full-time reigns over to Rice earlier this year though she still helps out on a part-time basis. "Obviously cost savings is and always will be the number one reason to install the geothermal system."
At any one time, Ultra can have as many as 12 highly trained employees, and Aho believes the company has retained its sky high customer satisfaction ratings because it has remained small and focused on superior customer and technical service.
NH Business Review's Sustainable Entrepreneurship series is run in partnership with the Green Alliance. To learn more about the alliance, visit greenalliance.biz.