Candidates spend final weekend vying for votes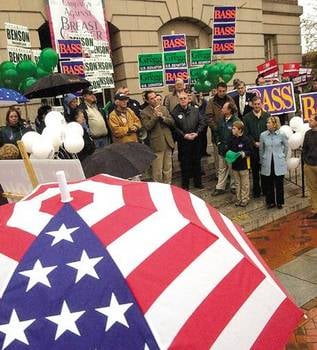 NASHUA – George Bush and John Kerry presidential campaign leaders each claimed the tape of Osama bin Laden would help tip this toss-up state to their candidate at Tuesday's election.
"I think it heightens awareness about our security as a nation, and the American people know this president is a proven leader,'' said Sen. Judd Gregg, R-N.H., after a GOP rally in Manchester.
Former Democratic Gov. Jeanne Shaheen, Kerry's national campaign chair, greeted hundreds of volunteers at a Manchester canvassing kickoff event.
"New Hampshire voters are tired of the Bush administration's failures in Iraq that have left America less safe and less secure,'' Shaheen said.
In the tight race for governor,
In the tight race for governor, Gov. Craig Benson hopped on a state Republican Party bandwagon that rolled throughout the southern tier while Democratic rival John Lynch pressed the flesh on his own at several stops in Manchester and Salem.
Democratic candidates "aren't appearing together because they are embarrassed to be together,'' Benson said at a rally outside Nashua City Hall on Saturday morning.
The roles are reversed today as Lynch and other leading Democratic candidates hook up with Kerry for a rally in downtown Manchester.
Lynch dodged waitresses to meet with patrons in a jam-packed Puritan Backroom Restaurant in Manchester.
"It looks like this election will be really close, and I'd love to have your support,'' Lynch told a Bedford couple.
Candidates competed with the Boston Red Sox parade for attention in the morning and battled a day-long drizzle that drove many voters indoors for the afternoon.
Late-breaking polls fail to settle either race.
Kerry led Bush here among three independent polls released Saturday by an average 1.7 percent.
"This feels like it did two years ago. We came into the weekend behind, caught a wave of momentum and won,'' said Republican Sen. John E. Sununu, who beat Shaheen in 2002.
Not surprisingly, Shaheen's husband, Bill, disagreed.
"There's incredible energy and enthusiasm for putting George Bush out of office. It's just amazing,'' Bill Shaheen said.
The same three polls give Benson leads ranging from one to eight percentage points over Lynch.
A University of New Hampshire and WMUR-TV tracking poll showed Kerry up by four points and Benson ahead by three, with a margin of error of plus or minus 3.4 percent.
The three-day sample Wednesday through Friday had Kerry with 50 percent to 46 percent for Bush, 1 percent for independent Ralph Nader and 3 percent undecided.
"We knew this would be close, and it is,'' GOP strategist Tom Rath said.
Benson led Lynch 47 percent to 44 percent, with the other 9 percent undecided or choosing someone not on the ballot, according to the poll.
Arizona Sen. John McCain was the star attraction at half a dozen stops that began with a speech to the Politics 'n' Eggs forum of business leaders in Bedford.
"I promise you, some day we will find him and kill him,'' McCain said of bin Laden.
The bin Laden tape will remind Americans that Bush responded to the attacks on Sept. 11 by waging an aggressive war against terrorism that brought to Afghanistan its first Democratic elections, McCain said.
"I believe the reason why President Bush is going to be re-elected is because of the transcending issue of this campaign,'' McCain said at the Bedford Village Inn event.
Three retired generals on the steps of Bedford Town Hall declared the video underscores Bush's failure to capture bin Laden and entry into an expensive and costly war with Iraq.
"Osama continues to be comfortable,'' retired Army Gen. Claudia Kennedy said.
Polls here show Bush is viewed as best able to fight the war against terrorism, but Kerry has gained ground and actually leads in some surveys on who can best finish the job started in Iraq.
McCain said the level of venom is without precedent.
"I have never seen such passionate passion, I have never seen such anger, I have never seen such negative attacks as I have seen in this presidential election and I have never seen such polarization,'' McCain said.
Outside the Ramada Inn, a brief shoving match between campaign volunteers broke out after a Kerry campaign bus with Massachusetts license plates pulled in to park at the GOP rally event.
The driver of a Winnebago-like van carrying Republican Congressman Charles Bass blocked the Kerry school bus from leaving.
The logjam broke without incident after the arrival of a Manchester police patrol car.
McCain said a re-elected Bush would compromise more to build his legacy, he added.
"I think most Americans are tired of this and at worst want to declare a truce,'' McCain said.
State Senate candidate Harry Haytayan of Hollis urged Republican candidates to end the attacks.
"We are the party of ideas and ideals,'' Haytayan said. "Take the high road and make sure in the last few days we get our message out.''
Bush campaign manager Ken Mehlman sounded confident.
"We intend to win New Hampshire,'' Mehlman said. "We're working very hard to win New Hampshire. (Kerry) has one road to victory. We have a number of them.''
Both sides said the get-out-the-vote effort here is the largest in history.
The Kerry camp said 2,000 were in the state volunteering on Saturday.
Joanne Kiley of Manchester is taking several vacation days from her office job at the local J.C. Penney to make telephone calls for Kerry.
"Never in my life have I been involved in a political campaign like I am right now,'' Kiley said.
Bush-Cheney state director Julie Teer watched as the volunteer crowd spilled out into the Manchester hotel lobby.
The GOP's plan was to directly contact up to 100,000 voters in the 72 hours leading up to Tuesday at 8 p.m., when the last polls close.
"The person supervising this phone bank here just told me their contact goal through Tuesday has already been done. Don't worry, we'll find them plenty more to do,'' Teer said, smiling.