Canada's prosperity lifts New Hampshire exports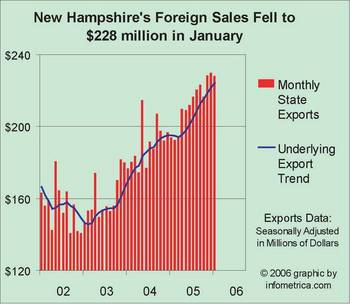 New Hampshire's foreign sales are off to a slower start in 2006. But while exports of goods edged down in January, they held up well, lingering at high levels attained at the end of last year.
Overseas sales of goods made in the Granite State fell 0.7 percent to $228.3 million in January from $229.8 million in December, adjusted for seasonal variation. It was the third highest level on record for state exports.
On an annual basis, exporters from New Hampshire posted gains in sales as their shipments abroad surpassed trade volume a year ago. In January 2006, state companies sold $34.3 million, or 17.7 percent, more goods than in January of 2005.
January's exports were largely driven by manufactured goods, which accounted for 78 percent of all state exports. Foreign shipments from New Hampshire's manufacturing companies dropped in January by 4.7 percent from the previous month to $178.4 million, adjusted for seasonal variation.
But more important, in comparison to a year ago the appetite of foreigners for business equipment and consumer goods manufactured in New Hampshire rose sharply. In January of this year, sales abroad from New Hampshire factories were $20.7 million, or 13.2 percent, higher than in January 2005.
Exports of non-manufactured goods rose 17 percent in January to $49.9 million, also adjusted for seasonal variation. This group of shipments abroad consists of agricultural goods, mining products, and re-exports.
Nationally, exports of goods, seasonally adjusted, jumped by 3.3 percent in January to a new record level of $81.7 billion, following a 2.2 percent increase in December.
Canada was the world's leading buyer of goods made in the United States. Businesses and consumers north of the border spent $17.3 billion, purchasing nearly one fourth of all U.S. exports in January, followed by Mexican buyers, who spent $10.6 billion and Japanese buyers who paid $4.4 billion for American goods.
Two forces are fueling Canadian demand for American goods: income strengthening resulting from intense economic growth and a strong Canadian dollar, which since January 2002 has jumped 40 percent against the greenback.
In January, $43.7 million of goods made in New Hampshire were sold to Canadian buyers, compared to $40 million a year ago.
In terms of importance relative to overall international sales, foreign shipments of goods from New Hampshire to Canada accounted for 20.1 percent of all state exports in January. In other words, one-fifth of all state exports — and consequently the thousands of jobs tied to these exports — depend on the economic conditions of Canada and the value of its currency. Canada is the largest destination market for exports from New Hampshire.
The Canadian leading indicator, produced and maintained monthly by Statistics Canada, grew by 0.5 percent in January, almost matching its 17-month-high gain of 0.6 percent in December. The increase in the indicator — which predicts economic activity six to nine months ahead — was led by strong gains in the Canadian stock market and housing demand at the start of the year.
Thus, the leading indicator signals that the Canadian economic outlook — vital to export-related jobs in New Hampshire — will maintain its momentum in the rest of the year.
In their recent economic forecast of the Canadian economy, the economics department of Scotiabank predicts a continuation of economic growth at an annual rate of 2.8 percent in 2006, nearly the same as in 2005 and 2004. The bank's outlook also forecasts persistence in the upward trend of the Canadian dollar during 2006.
The predictions confirm that Canadian prosperity will continue in 2006. New Hampshire's companies doing business with companies north of the border should see an increase in orders from Canadian importers, which will boost up production, improve profits and create more local jobs.
Evangelos Simos, chief economist of the consulting and research firm Infometrica Inc., is editor for International Affairs in the Journal of Business Forecasting, and professor/department chair at the Whittemore School of Business & Economics, University of New Hampshire. Distributed by Infometrica Inc. He may be reached at eosimos@infometrica.com.