Canada remains an export mainstay for New Hampshire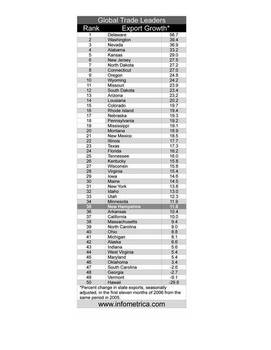 As domestic demand for goods made by New Hampshire's companies weakened last year, exports became an important source of maintaining strong overall sales and jobs, thus improving statewide economic development.
Abroad, economic conditions in 2006 were favorable in most areas. Following years of stagnation, the European economy gained momentum, and Japan's economic expansion remained on track. Emerging economies in Asia, led by China and India, maintained solid gains of economic growth at a speed twice that of Europe.
In the Americas, consumers and businesses north of the border bought nearly one-fourth of all U.S.-made exported goods in 2006 — more than any other country in the world. Between January and November of 2006, national exports to Canada totaled $212 billion, compared to $211 billion for all of 2005. As a result, the health of the Canadian economy is very important to U.S. exporters.
As at home, economic activity north of the border slowed down last year, thus Canadian demand for goods made in New Hampshire softened in 2006 in comparison to 2005. Following a jump at a pace of 3.7 percent in the first quarter of 2006, Canada's overall income, adjusted for inflation, slowed down to 2 percent in the second quarter and further eased to a 1.7 percent pace in the third quarter. On the horizon, in its latest economic outlook report, the Bank of Montreal predicts that the Canadian economy will grow by 2.4 percent in 2007, slower than an estimated pace of 2.7 in 2006 and 2.9 percent in 2005.
The Bank of Montreal's outlook predicts overall Canadian imports to grow by 3.1 percent in 2007, compared to 4.7 percent in 2006 and 7.1 percent in 2005. In other words, the 2007 forecast suggests a further softening in the demand for U.S.-made goods from buyers north of the border.
According to the latest international trade data, Canadian demand for goods made in New Hampshire generated $51.3 million in foreign sales for state companies in November, which accounts for 21.8 percent of all revenues from state exports.
Overall foreign sales fell 3.1 percent in November, to $227.2 million, adjusted for seasonal variation.
On an annual basis, New Hampshire's exporters posted gains in selling their goods abroad. In November 2006, overseas shipments from state exporters edged slightly higher than their level set in November of 2005 by $0.3 million, or 0.1 percent.
In November, shipments abroad from New Hampshire manufacturers climbed 8.2 percent in November 2006 to a seasonally adjusted volume of $203.3 million from October 2006 and were 5 percent higher than in November 2005. For New Hampshire manufacturers, November's monthly export revenues hit their third-highest mark on record.
In the first 11 months of 2006, exports of manufactures from New Hampshire companies already hit a record $2.118 billion, which is $16 million higher than the annual mark of $2.101 billion for 2005 as a whole.
Exports of non-manufactured goods fell 48.6 percent in November, to $23.9 million, adjusted for seasonal variation. This group of shipments abroad consists of agricultural goods, mining products and re-exports.
In comparison to the same period of 2005, foreign sales from New Hampshire's exporters – seasonally adjusted – increased by an annual rate of 11.8 percent. The state ranked 35th among the 50 states through the first 11 months of 2006 in export growth.
Evangelos Simos, chief economist of the consulting and research firm Infometrica Inc., is editor for International Affairs in the Journal of Business Forecasting, and professor/department chair at the Whittemore School of Business & Economics, University of New Hampshire. He may be reached at eosimos@infometrica.com.