Canada drives N.H. manufactured exports to an all-time high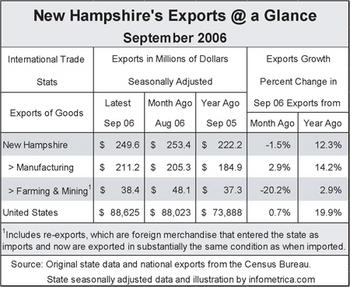 Gains in productivity are the driving force behind the lowering of costs and prices. In a global competitive environment, a reduction in the costs of production translates to an expansion of sales abroad and improves competitive advantages at home in relation to competing imports.
The level of productivity in a country, state, industry or company is influenced by many factors that shape the overall economic environment and company-specific operations related to technological progress. World Economic Forum, a Geneva-based international organization, has put together a measure of global competitiveness that includes key performance elements which determine productivity.
According to findings of the forum's 2006 survey, which has measured countrywide competitiveness for more than 100 economies for well over two decades, the United States ranked sixth in overall global competitiveness. However, in the area of business global competitiveness, which is important for international trade, the United States ranked first among 121 countries, followed by Germany, Finland and Switzerland.
The forum's business global competitiveness index provides an assessment of "the prosperity that countries can sustain over time," and was found to explain by more than 80 percent their standard of living, measured by income per person.
The United States' top ranking in business competitiveness reflects a combination of leading performance in the quality of the national business environment and sophistication of company operations — two vital drivers of international competitive advantage.
Looking at the individual criteria of the index, the United States ranked first on venture capital availability, financial market sophistication, research collaboration between universities and industry, company spending on research and development and availability of research and training services.
Interestingly, India and China, mentioned in the media as cheap-labor mega exporting global engines, ranked 27th and 64th, respectively.
The China market
The strong foundations of business competitiveness have helped companies to perform exceptionally well in the last two years in selling their products abroad. According to the latest international trade statistics, exports of goods from around the nation continued to be on a record-breaking path in September.
National sales abroad rose to an all-time high of $88.6 billion, seasonally adjusted, the sixth record performance in the first nine months of this year.
Foreign sales from New Hampshire companies edged slightly down to $249.6 million in September, the second-highest level on record.
In September 2006, state companies shipped abroad $27.4 million, or 12.3 percent, more goods than in September of 2005.
September's exports were largely driven by manufactured goods, which accounted for 85 percent of all state exports. Foreign shipments from New Hampshire's manufacturers climbed in September by 2.9 percent from the previous month to an all-time high of $211.2 million, adjusted for seasonal variation.
On an annual basis, sales abroad from state factories were $26.4 million, or 12.3 percent, higher than in September of last year.
Foreign sales of non-manufactured goods fell 20.2 percent in September, to $38.4 million, adjusted for seasonal variation.
Buyers from five countries made up one half of the overall foreign demand for goods made in New Hampshire. Consumers and businesses north of the border bought $454 million or 22 percent of all state exports in the first nine months of this year, making Canada the largest export partner of New Hampshire's companies.
The Netherlands is the second-biggest buyer of state exports this year, accounting for 7.5 percent of all foreign sales. Exports to Germany, the state's third most important trading partner, jumped 40 percent so far this year in comparison to 2005. British buyers purchased $134 million of goods made in New Hampshire in the first nine months of this year making the United Kingdom the fourth-biggest trading partner of state companies.
A few years ago, China was an unimportant export market for New Hampshire's companies. In the first nine months of 2006, Chinese companies bought $132 million of goods made in the state, an astonishing 67 percent increase from the same period of 2005. As a result, China ranks as the fifth-biggest trading partner of New Hampshire's companies so far this year.
In the first nine months of the year, New Hampshire ranks 31st in export growth among the 50 states. In comparison to the same period in 2005, foreign sales from New Hampshire's companies, seasonally adjusted, increased by an annual rate of 13.8 percent, compared with an average rise of 14.8 percent for the nation as a whole.
Evangelos Simos, chief economist of the consulting and research firm Infometrica Inc., is editor for International Affairs in the Journal of Business Forecasting, and professor/department chair at the Whittemore School of Business & Economics, University of New Hampshire. Distributed by Infometrica Inc. He may be reached at eosimos@infometrica.com.