Can mandates fix our health-care system?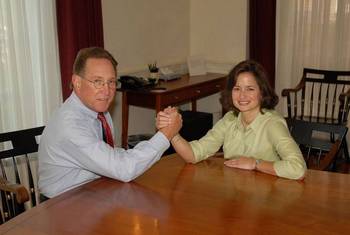 Marla: In a wealthy, technologically-advanced society such as ours, one of the goals of our Legislature should be to provide health-care coverage to as many citizens of New Hampshire as possible.
The number of people who go without health-care coverage in this state (and the nation) is shocking and somewhat embarrassing. During this session, the New Hampshire Legislature has considered a number of bills that would increase access to health care. The Legislature should be applauded for their attention to these problems and their efforts to solve them.
Donald: Marla, you've never met a mandate you didn't like! Although these mandates may be a quick fix to a set of narrow problems, they will cause the cost of insurance to go up and will ultimately harm families. Incremental expansion of coverage through mandates has done nothing to make health care more available. It actually erodes the population seeking coverage because of the associated costs of the mandate.
What government should do is focus on making health insurance available to everyone – not just those people who fit the latest subset of ailments for which we wish to expand the benefit design of commercially available coverage. Stop the incremental approach and make health insurance available to everyone.
Marla: Whoa, talk about being unrealistic. We all know that universal health care is a long way off. Therefore, we need to do what we can to fix the problems we are currently facing. Senate Bill 197, which has passed both the House and Senate, is a step in the right direction. It requires employers to provide health-care coverage to the divorced spouse of an employee. Like many so-called mandates, SB 197 will not increase costs to employers. It simply permits a spouse who is required by a divorce decree to provide health insurance for his/her former spouse to keep that spouse on a family plan. Presumably, the employer is already providing a family plan to the employee and it won't cost the employer any more than it is already paying. SB 197 protects families at a vulnerable time and it is an economical solution to this problem. If an employee cannot add a former spouse to a family plan, the employee has to purchase a single plan for the former spouse in addition to the family plan. This makes no sense.
Donald: There goes Mandate Marla again! Small employers will be unable to afford the cost of health care and will provide less coverage for their employees. It is unfair to increase employers' financial burdens. In addition, there are too many unknowns with SB 197 – what will happen if the former spouse moves out of state? Those out-of-network expenses will result in an extra cost to the already overburdened health-care financing system.
Marla: I guess we can agree to disagree on that one, Donald. House Bill 790 is another bill that will expand access to health care. Currently, health-care coverage is provided for dependent children up to the age of 18. HB 790 expands this coverage to dependent children up to the age of 26. It provides health-care coverage to individuals who are otherwise unable to obtain coverage. These young adults are unmarried, in school, and they can't afford health-care coverage. So how do they deal with this problem? They go without insurance.
But what happens if one of these individuals gets sick or is injured and has to go to the emergency room? They can't afford to pay for treatment so those costs get passed on to you and me in the form of higher premiums. By allowing parents to keep these kids on their health insurance in a limited set of circumstances, the Legislature has provided a relatively inexpensive fix to this problem.
Donald: HB 790 is another bill that will significantly increase the costs on our already overburdened health-care financing system. How can you argue that this won't increase costs? The New Hampshire Center for Public Policy Studies has estimated that this mandate would result in $7.7 million in new medical costs to be insured through the private insurance system. Employers can barely pay for health insurance now, how can we expect them to shoulder this additional burden? Incremental mandates don't solve problems, they simply create issues elsewhere. It's like pushing on a balloon — it's going to come out somewhere!
The costs of employee health care can no longer be borne primarily by employers. The employer-sponsored system helped ruin the American auto industry and will continue to erode our competitiveness in all sectors of the global marketplace. We will continue to lose ground to the developing economies which do not finance legacy employee costs.
If we do not figure out a better way to provide health insurance coverage, our economy is going to complete its maturation, then retreat, and ultimately our country will stumble and our children's standard of living will never reach their parents.
Marla: These are all good points, Donald. However, we can't sit back and wait until health insurance is available to everyone. If SB 197 and HB 790 move us toward a solution, I for one am all for them. nhbr
Donald J. Pfundstein, president and managing director of Gallagher, Callahan & Gartrell, focuses his practice on regulated industries. Marla Matthews, an attorney at Gallagher, Callahan & Gartrell, assists the firm's multidisciplinary team in the regulated industries.