Calamar breaks ground on third NH senior housing complex
110-unit Cobblestone Pointe to be completed in 2017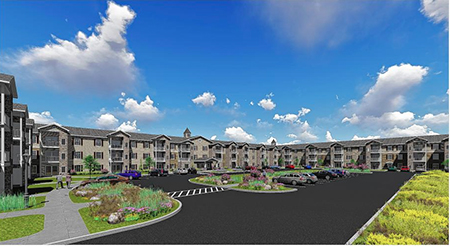 Construction has begun on Cobblestone Pointe Senior Village, a $16 million, 110-unit senior housing development at near the Steeplegate Mall in Concord.
The independent living complex is being built by Wheatfield, N.Y.-based Calamar, which also owns Maple Ridge Estates in Bedford, which is set to open in 2017, and The Grand Estate at Londonderry, set to open in 2016.
Cobblestone Pointe is expected to open in the summer of 2017.
The one- and two-bedroom apartments would be available to tenants older than 62. Rents for the one- and two-bedroom apartments are expected to range from $1,043 to $1,290 per month.