Business pitch event reaches new heights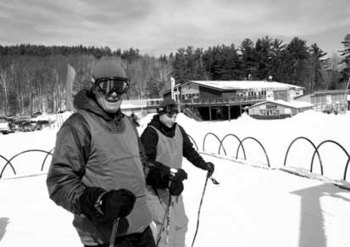 Six minutes is the amount of time it takes the high-speed chair lift at Mount Sunapee Resort in Newbury to reach the top. On March 10, entrepreneurs, idea men and women, start-ups and established business owners alike took advantage of those six minutes for a unique opportunity to pitch their business plans and ideas to venture capitalists and investors while climbing to the summit — a New Hampshire version of the business "elevator pitch."
One of those taking part was Lisa Ludwig, vice president of marketing and business development of Animetrics, a company developing 3-D facial recognition technology. She said the event created a comfortable atmosphere for companies and investors.
"It's such a creative idea, plus the beautiful setting of the mountain and the great skiing takes the pressure off of entrepreneurs and the investors," said Ludwig. "Obviously it would have been very hard for me to get in front of so many investors in such a short period of time. Most importantly, it resulted in me securing some follow-up meetings with potential investors."
Organized by the NH Advantage Foundation, a non-profit organization started by former Gov. Craig Benson, and supported by the Gigunda Group, Peak Pitch '05 is a companion event to the Start-Up NH Business Plan Competition, begun during Benson's administration.
"There's no event in the world that offers the opportunity for a business in need of capital investment that Peak Pitch '05 offers," said Benson. "People with great business plans and unique ideas came from all over the United States to take part in this event. They recognized that not only would it be fun, but where else are you going to have a one-on-one chance to pitch a captive audience of dozens of investors over and over again in six minute increments?"
For two hours a group of entrepreneurs that included a company developing lasers for industrial and military applications, a company developing drug candidates to combat HIV and an on-line retailer promising to fit consumers with the right jeans for their body type, rode the lift pitching their ideas to representatives of investment firms from around the Northeast.
"We had an amazing array of people with some ground-breaking ideas and business plans participate in Peak Pitch '05," said Jesse Devitte of Borealis Ventures, a member of the Start-Up NH steering committee and spokesperson for Peak Pitch '05.
Devitte said the hope was that "two things will come out of this inaugural event. One is that businesses will connect with the right investors and a lucrative relationship for both groups will grow out of that initial chair lift pitch. The other is that businesses will receive some great feedback, refine their plans and enter the Start-Up NH Business Plan Competition and take a shot at winning hundreds of thousands of dollars and bring new jobs to New Hampshire."
Businesses taking part in Peak Pitch '05 were not required to sign up for Start-Up NH 2005, but many of the competitors have already done so or plan to register before the March 31 deadline.
Sponsored by Public Service of New Hampshire, Start-Up NH 2005 will offer $250,000 in cash prizes — the largest business plan competition cash prize in the country.
Christopher Jay, co-founder of PiggyBanc, a company marketing an on-line savings account for the parents of newborns, was a finalist in last year's Start-Up NH competition who took part in this year's Peak Pitch.
"This was such a non-threatening atmosphere, which isn't always the case when everyone is in their suits and ties sitting around a boardroom," said Jay. "Investors were open to ideas and the organizers really listened to the ideas the businesses were pitching and made sure to put us in contact with the right investors. In our case, we needed to talk to banks, and the Peak Pitch organizers made sure we got a seat on a chair with some bankers."
More information about the Start-Up NH Business Plan Competition 2005, taking place on June 6 and 7 at the Radisson Hotel Center of New Hampshire in Manchester, is available by contacting Keith Herman at 969-0492 or visiting nhadvantage.com.