Business park expansion gain momentum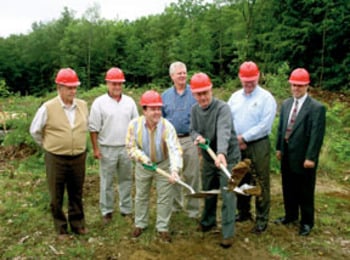 Ground has been broken for a seven-unit building at the Franklin Industrial and Business Park, the latest feather in the cap for the growing facility.
The newest project, developed by a group led by George Aubin, involves construction of seven 1,750-square-foot "as is" units to be marketed as industrial condominiums.
"Small businesses will have an opportunity to own their own business space for a very reasonable price," said Aubin. "In addition, through buying space that has limited fit-up, the buyer has the opportunity to do his own fit-up of an office or offices for low cost, hiring their own subcontractors and or doing it himself."
The basic units will be fit with electrical, mechanical and plumbing services.
Aubin said the project's "big advantage" is the buyer's ability "to get into good industrial space while having ownership for low cost. Consider that a buyer may buy two units."
The park is a joint venture of Franklin Developments Inc. and the Franklin Business & Industrial Development Corp.
Franklin Developments was formed in the 1950s with the goal of attracting and retaining industries in the city. The organization had a part in bringing in some of the city's major manufacturers, including Webster Valve. It also developed the Franklin Industrial Park.
The FBIDC, established with funding by the Franklin City Council in 1996 to handle the marketing and promotion of business and industry in the city.
Over the last year, the partnership between FDI and the FBIDC has negotiated industrial land purchases with the aim of expanding Franklin's industrial base. They formed Industrial Park Investors LLC, a limited liability corporation, that has thus far attracted about a half-dozen new prospect businesses into the Franklin Industrial and Business Park.
In addition to the Aubin group, Primerica Financial has opened offices in the park, and Performance Chemicals will be building a 40,000-square-foot building on recently purchased land.
Expansion of the park was aided by word that $2.8 million in federal funds was included in the recently passed highway bill to help upgrade the intersection of Route 3 and Industrial Park Drive in Franklin.
Franklin had previously received a federal Transportation Community System and Preservation grant to study construction upgrade for this intersection. This authorization will help allow the study's recommendations to be implemented.
Franklin Mayor David Palfrey said the project "will significantly enhance intersection safety and make the Franklin Industrial Park a more attractive and accessible place for business."
"The continued growth of the Franklin Industrial Park is essential to the economic vitality of the city," added Jim Abert of the FBIDC. "This reconstruction project is a terrific asset in attracting new businesses and industry into our city."