Building on Hope seeks support for $300k nonprofit renovation
Effort will make over facility for young adults and adults with disabilities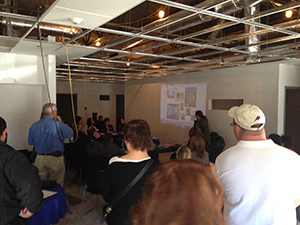 Building on Hope, a community initiative of volunteers who collaborate with builders, architects, designers and suppliers to provide physical improvements to facilities associated with nonprofit service groups, is taking on its biggest project yet — a $300,000 renovation of Opportunity Networks' facility in Amherst.
Opportunity Networks is a nonprofit serving young adults and adults with acquired and development disabilities who live in the Souhegan Valley and greater Nashua area.
To accomplish its goal, Building on Hope is seeking financial support from businesses and community members to complete the project over one week in May.
Every two years, Building on Hope takes on a new challenge – organizing volunteers, collecting resources and focusing attention on a specific "extreme makeover" to be completed over the course of a week with volunteer labor and donated goods.
In the past four years, Building on Hope has successfully completed over $500,000 in community-funded renovations for Easter Seals New Hampshire and Girls Inc.
The Opportunity Networks project involves the organization's 6,000 square feet of space at 11 Caldwell Drive in Amherst, which has been occupied by Opportunity Networks for more than 30 years. In that time, little more than basic updating and maintenance was performed.
Opportunity Networks financed the first phase of construction, increasing the building's usable space by 50 percent. Work included demolition of the interior, installation of new walls, a new roof, sprinkler system, rough electrical work and a new HVAC system.
With the support of Building on Hope, local businesses, donors and volunteers will handle the finishing touches, transforming it into a state-of-the-art facility that will improve the lives of people with all disabilities.
A total of 12 rooms will be renovated. Rooms vary by purpose, from promoting healthy and independent living skills, employment and learning, to pursuit of interests, and general needs. Volunteers will have the chance to aid the creation of a movement room, a tech theater, creative center, administrative offices, function and conference rooms, kitchen and cafeteria, among others.
Renovation will allow for expanded hours to further support families, provide after school programming/high school transition services, multisensory learning, and communication technologies.
"Building on Hope exists because of the generosity of businesses and community members who have committed their time, talents and resources in an effort to make real change in the lives of people seeking services from Easter Seals and Girls Inc.," said Karen Van Der Beken, co-chair of Building on Hope. "Opportunity Networks is by far our largest renovation project to date and the facility is in need of substantial physical and aesthetic improvements. Fortunately there are several ways for businesses and the public to get involved, whether by donating materials, volunteer labor, food services, financial support, or sponsoring rooms in the renovated facility."
There are several ways to support the effort, according to Building on Hope co-chair Jonathan Halle.
"We have assembled a team of top designers and assigned them to each of the rooms in the facility. Businesses can sponsor a room and be as involved as their comfort level allows. Entire companies can get engaged by working directly with the designers to develop and execute the vision for that space, or if preferred, a business can underwrite costs for materials and our team of volunteers can implement the designs. Most importantly, this is a wonderful opportunity to get involved in a transformation that will provide enrichment to the community for many years to come."
Volunteers will mobilize and begin work in early May and a reveal and ribbon-cutting ceremony is scheduled for May 18.
For more information and to make a donation visit: buildingonhope.org.