Building on Hope seeks applicants for its sixth nonprofit makeover
Deadline is Dec. 14 for next major facility renovation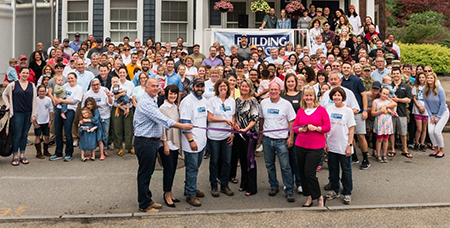 Building on Hope, the organization that has performed five "extreme makeover" renovations of facilities owned by nonprofits in New Hampshire, is looking for its sixth project.
The deadline for Granite State nonprofits to apply for the major renovation is Dec. 14.
Building on Hope, an organization of volunteers who include designers, architects, suppliers and builders, has completed $4.1 million in renovations since its first project in 2009. In that period, it has taken on projects for Easterseals NH, Girls Inc., Opportunity Networks, Manchester Police Athletic League and the Crisis Center of Central New Hampshire through donated goods and labor.
To be considered, an organization must be a 501(c)(3) charitable organization, own its facility and be located within 20 miles of Manchester. Organizations must compose a letter describing the nonprofit's mission and programs and how they benefit the community. The letter should also explain the renovation work that is needed and how a remodeled structure could transform the organization and its services. All letters should be emailed to Karen Van Der Beken at kvanderbeken@eastersealsnh.org by Friday, Dec. 14.